Episode notes
New to Bullseye? Subscribe to our podcast in iTunes or with your favorite podcatcher to make sure you automatically get the newest episode every week.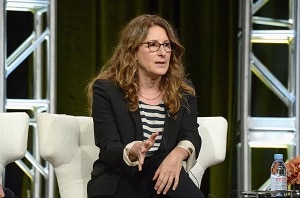 Photo: Charley Gallay / Getty Images
Writer and director Nicole Holofcener on her new film: 'The Land of Steady Habits'
Nicole Holofcener is a writer and director probably best known for her films "Friends with Money" and "Enough Said." She's also worked on TV shows like "Parks and Recreation," "Orange is the New Black" and "Sex and the City." Her latest project is a film called "The Land of Steady Habits" – it's out now on Netflix.
Nicole's projects are intimate and always feature strong female leads. For the first time, her movie centers on a man. "The Land of Steady Habits" is about a middle-aged, retired finance guy, named Andres played by Ben Mendelsohn. Anders is going through kind of a late midlife crisis. He just left his wife, Helene, played by Edie Falco. And his relationship with his adult son is drifting away – Anders is losing him to drug use. It's safe to say that Anders has trouble figuring out where he fits in these days.
Nicole will tell us how she adapted the novel by Ted Thompson into this very poignant film, and why she felt this was an important story to tell. Plus, she'll reflect on her childhood – when she moved to Los Angeles as a early teenager she couldn't believe that the guys on the Metro bus would be exactly like the jerks on the New York subway.
Listen to this interview on YouTube!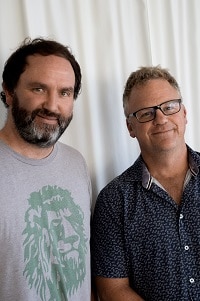 Photo: Jesse Thorn
Jim Gavin & Peter Ocko on the new Television show 'Lodge 49'
AMC has produced some of the most stunning dramatic television programs in recent memory. "Mad Men," "Better Call Saul," and "Breaking Bad" come to mind – but they're television shows that are grounded in gritty realities. "Lodge 49" is one of the newest shows on AMC, and it's a drama like you'd expect from the network. But it's on a different wavelength, and it's very funny.
The show's about Sean "Dud" Dudley. He's a 30 something burnout who lives in Long Beach, California. One day he's metal detecting on a beach and he finds a ring. He asks around, and it turns out it belongs to a lodge for this secret society – the Order of the Lynx. Sort of like the Freemasons or the Elks. The ring brings him into the lodge, and before long, he becomes a member. He's fascinated by the robes and rituals, charmed and befriended by the members. He gets swept up by the mythology and mystery.
We spoke to Jim Gavin, the show's creator; and Peter Ocko, a TV veteran, showrunner and Executive Producer for "Lodge 49." They'll give us the scoop on all the quirks of the show, and their fascination with fraternal organizations. Jim Gavin grew up in Long Beach, naturally, we asked him some extremely specific Long Beach questions.
Listen to this interview on YouTube!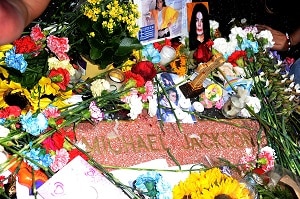 Photo: Frazer Harrison / Getty Images
The Outshot: The genius of Michael Jackson
Michael Jackson sang some of the greatest pop hits of all time, but who was the real genius behind those tracks? Michael Jackson, of course!
Guests
Nicole Holofcener
Jim Gavin
Peter Ocko
About the show
Bullseye is a celebration of the best of arts and culture in public radio form. Host Jesse Thorn sifts the wheat from the chaff to bring you in-depth interviews with the most revered and revolutionary minds in our culture.
Bullseye has been featured in Time, The New York Times, GQ and McSweeney's, which called it "the kind of show people listen to in a more perfect world." Since April 2013, the show has been distributed by NPR.
If you would like to pitch a guest for Bullseye, please CLICK HERE. You can also follow Bullseye on Twitter, YouTube, and Facebook. For more about Bullseye and to see a list of stations that carry it, please click here.
Get in touch with the show
How to listen
Stream or download episodes directly from our website, or listen via your favorite podcatcher!