Episode notes
New to Bullseye? Subscribe to our podcast in iTunes or with your favorite podcatcher to make sure you automatically get the newest episode every week.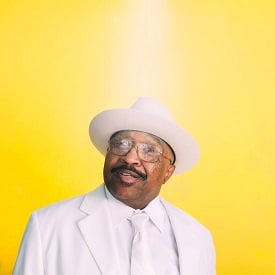 Photo: David McMurry/Courtesy of Swamp Dogg
Swamp Dogg: On His Musical Upbringing, New Album, and Six Decade Career
Singer/songwriter and three-time Bullseye guest Jerry Williams is best known by his recording name Swamp Dogg. He started in show business as a kid. He put out his first song at the age of twelve with his mom playing drums. Then, in the 60s, he was a record company man. He worked A&R, produced bands, and wrote a few R&B hits.
He adopted the name Swamp Dogg in the early 70s and put out a bunch of classics: "Total Destruction To Your Mind," "Rat On!," "Cuffed, Collared & Tagged."
His music is straightforward soul with a hilarious psychedelic lens.
These days, more and more people are getting hip to Swamp's music. His old LPs have been reissued and he's still making music! He's closing in on two dozen albums now, and just put out a new one called "Love, Loss and Auto-Tune."
Swamp Dogg tells Jesse about what's it's like to for him to still be performing today and, a time he was mistaken for being a white musician.
Click here to listen to Swamp Dogg's interview on YouTube.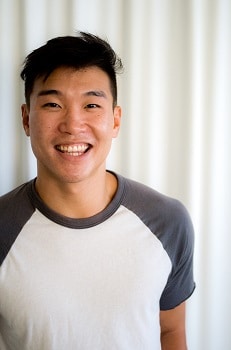 Photo: Jesse Thorn
Joel Kim Booster: On His Stage Persona, Defying Stereotypes, and Growing Up in A Conservative Christian Home
A quick warning: This next segment features some frank talk about sex. If that isn't the kind of thing you want to hear, just a heads up.
Joel Kim Booster is a writer and comedian. He's written for "Billy on the Street," "Problematic with Moshe Kasher," and Netflix's "Big Mouth." As a standup, he's appeared on Conan, Comedy Central, @Midnight and more.
He's Korean American and was adopted and raised by a white family in suburban Illinois. His upbringing was conservative and very, very religious – he was homeschooled until he hits his teens, and came out to his parents about being gay in his late teens.
In this interview, he talks to Jesse about his "hot" and "dumb" stage persona, his hopes for the afterlife, and the feedback he gets from other Asian American entertainers and his Asian American followers.
Joel's comedy album is called "Model Minority." You can find out the latest about Joel on his website: I hate Joel Kim.
Click here to listen to Joel Kim Booster's interview on YouTube.
Photo: Hulton Archive/Getty Images
The Outshot: Simon Rodia's Watts Towers
In this week's Outshot, Jesse talks about the masterwork of a four-foot-ten-inch tall, 42-year-old, barely literate, Italian immigrant who wanted to make
something big.
Guests
Swamp Dogg
Joel Kim Booster
About the show
Bullseye is a celebration of the best of arts and culture in public radio form. Host Jesse Thorn sifts the wheat from the chaff to bring you in-depth interviews with the most revered and revolutionary minds in our culture.
Bullseye has been featured in Time, The New York Times, GQ and McSweeney's, which called it "the kind of show people listen to in a more perfect world." Since April 2013, the show has been distributed by NPR.
If you would like to pitch a guest for Bullseye, please CLICK HERE. You can also follow Bullseye on Twitter, YouTube, and Facebook. For more about Bullseye and to see a list of stations that carry it, please click here.
Get in touch with the show
How to listen
Stream or download episodes directly from our website, or listen via your favorite podcatcher!