Episode notes
New to Bullseye? Subscribe to our podcast in iTunes or with your favorite podcatcher to make sure you automatically get the newest episode every week.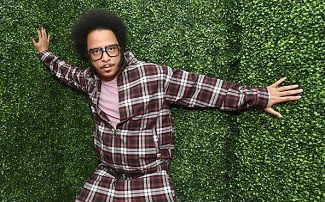 Photo: Emma McIntyre/Getty Images
Boots Riley on the Transition from Music to Film and the Role of Art in Revolution
Boots Riley is the frontman and founder of the legendary hip-hop collective The Coup. The group produced simple music – the beats never had a lot of frills. When he rapped, Boots spoke plainly about stories from his real life. But it was in a really compelling, passionate way. He talked about social justice, poverty, racism and the stuff people do just to get by. A lot of hip-hop is about prosperity – overcoming a system that's been rigged against you for centuries. The Coup, however, wanted to throw the system out entirely.
Boots was born Raymond Lawrence Riley. He grew up in Oakland, California. His parents were political, working actively in the NAACP and the Progressive Labor Party and Boots wanted to carry on that tradition in art.
He went to film school at first, but eventually found his calling in hip-hop. Along with his friend E-Roc, he founded the hip-hop band The Coup in 1991.
About six years ago, Boots started working on a movie – something he'd never really done before. He started telling his friends about it, asking acquaintances in the industry for advice – sometimes he'd just corner a producer for 15 minutes. Thanks to a combination of audacity, determination, and luck, the finished product is hitting theaters next month.
The movie is called "Sorry to Bother You." It's set in Oakland, in kind of an alternate reality. Lakeith Stanfield stars in it. He plays Cassius Green, a black man who gets a gig doing telemarketing. It's in that job he finds the key to success: do a dead-on impression of a white dude and magically, people listen when you call. From there, it gets weirder. There's elements of science fiction, horror, and more and it's out in theaters July 6.
Boots tells Jesse about the recent passing of former Coup member and DJ Pam the Funkstress, The Coup's origin story, and why he doesn't think art alone can start a revolution.
Click here to listen to Boots Riley's interview on YouTube.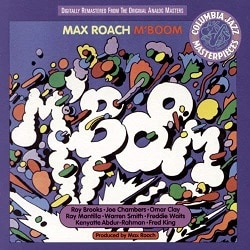 Photo Courtesy of Legacy/Columbia/ Sony Music Entertainment Inc.
Outshot: M'Boom
Jazz drummer Max Roach founded the percussion ensemble
"M'Boom"
in 1970. He wanted to explore the possibilities of percussion, but it was also a socio-political statement.
Roach saw the drum set as the quintessential American instrument, borrowing hand drums from Africa and the native people of North America, snares and bass drums from Europe, and cymbals from the middle east.
M'Boom embraced an international spirit – and particularly the African diaspora spirit. As an African American, Roach was aware of the way his people had been disconnected from their historical-cultural context by slavery. M'Boom was an act of reconnection.
Click here to listen to Jesse's Outshot on M'Boom on YouTube.
About the show
Bullseye is a celebration of the best of arts and culture in public radio form. Host Jesse Thorn sifts the wheat from the chaff to bring you in-depth interviews with the most revered and revolutionary minds in our culture.
Bullseye has been featured in Time, The New York Times, GQ and McSweeney's, which called it "the kind of show people listen to in a more perfect world." Since April 2013, the show has been distributed by NPR.
If you would like to pitch a guest for Bullseye, please CLICK HERE. You can also follow Bullseye on Twitter, YouTube, and Facebook. For more about Bullseye and to see a list of stations that carry it, please click here.
Get in touch with the show
How to listen
Stream or download episodes directly from our website, or listen via your favorite podcatcher!