Episode notes
New to Bullseye? Subscribe to our podcast in iTunes or with your favorite podcatcher to make sure you automatically get the newest episode every week.
How Johan Miranda opens up about his immigration status through stand-up comedy
Currently, there are about 700,000 people enrolled in the US Government's Deferred Action for Childhood Arrivals (DACA) program. Participants in the program are people who were brought into the US as kids without proper documentation. DACA allows them to stay, and offers them certain protections. Johan Miranda is one of the thousands of people that signed up when DACA was first introduced in 2012 under the Obama Administration.
He came to the US when he was three from Peru. His parents traveled to the US on a Tourist Visa. When the Visa expired he and his parents stayed. His family started a new life in San Francisco. When he first started out in comedy a lot of his material was kinda observational – funny, but nothing with a super distinct voice or perspective. Which isn't unusual for a lot of new comics.
But that changed in November of 2016, after the election. With a new administration, the residency status of the folks covered by DACA became uncertain. The new US elected president promised to implement some of the strictest immigration policies in history, and to repeal the DACA policy he was protected under.
As you might expect it was at this point that Johan says he wasn't feeling to hot about the government having his fingerprints and information. But in a way, it's what gave him the courage to find his voice and be talk honestly during his stand-up routine. And it's really funny, of course!
He'll talk about what it was like to finally get his driver's license after he was approved for DACA, and going to barber school only to find out he needed a social security number at the end of the program. We'll also learn about the material he was working on before the election – some unused material about the movie "Titanic" – get a preview of the bit, which he says might be working back into his set after this interview.
If you're in LA this weekend you can check out his new one man show, "Why Johan Miranda Should Be Deported," this Friday, July 27 at the Lyric Hyperion Theatre & Cafe.
Listen to this interview on YouTube!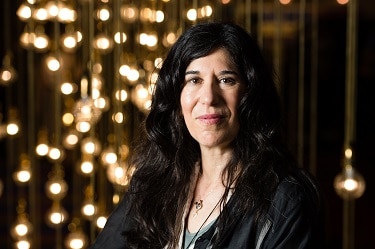 Photo: Jeff Spicer/Getty Images
Debra Granik on her new film 'Leave No Trace'
Debra Granik, wrote and directed the acclaimed 2010 film "Winter's Bone." After 8 years, she's just released her follow up – it's called "Leave No Trace."
"Winter's Bone" was sort of a modern film noir, except instead of LA or New York, it was set in the Ozarks. And instead of a fedora wearing gumshoe, it followed a 17 year old girl as she pieced together the story behind her father's disappearance. Ree Dolly walked through burned out meth labs, negotiated with crime families, bail bondsmen and cops. And, of course: Ree Dolly was played by Jennifer Lawrence. It was her first ever starring role.
Like Winter's Bone, her new film "Leave No Trace" puts a compelling but compassionate focus on marginalized groups – one of the main threads is a combat veteran's struggle with trauma and homelessness.
It tells the story of a father and daughter who live entirely off the grid in a nature reserve not far from Portland, Oregon. The film detail regular life for Will (Ben Foster) and his daughter Tom (Thomasin McKenzie, another new actor). They forage and cook mushrooms. Will teaches Tom to play chess. They build fires for warmth. The way they live is peaceful, but not exactly legal. They are discovered in the woods by the police and social workers get involved, offering housing, work, school. But as you might imagine, it's a tough transition – especially for Will.
Debra Granik talks about the process of making her new film at length. Debra is also working on a film based on the book "Nickeled and Dimed," which is a thoroughly investigated, brilliant work of nonfiction about the impact of the 1996 welfare reform act on the working poor in the US. She'll tell us how she plans to turn that into a narrative film. Plus, she explain what she learned about film making from being wedding videographer long before she was a film director.
Listen to this interview on YouTube!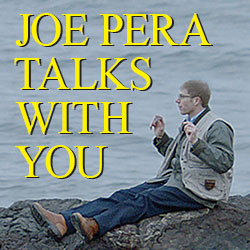 Photo: Adult Swim
The Outshot: Adult Swim's 'Joe Pera Talks with You'
This week, Jesse tells us why the Adult Swim show "Joe Pera Talks With You," is a brilliant and funny guide to the world. The show's not for everyone. For one thing, it's not what you call laugh-out-loud hilarious – but despite the awkward, kinda strange tone, Pera makes you feel all warm and fuzzy inside.
Guests
Debra Granik
Johan Miranda
About the show
Bullseye is a celebration of the best of arts and culture in public radio form. Host Jesse Thorn sifts the wheat from the chaff to bring you in-depth interviews with the most revered and revolutionary minds in our culture.
Bullseye has been featured in Time, The New York Times, GQ and McSweeney's, which called it "the kind of show people listen to in a more perfect world." Since April 2013, the show has been distributed by NPR.
If you would like to pitch a guest for Bullseye, please CLICK HERE. You can also follow Bullseye on Twitter, YouTube, and Facebook. For more about Bullseye and to see a list of stations that carry it, please click here.
Get in touch with the show
How to listen
Stream or download episodes directly from our website, or listen via your favorite podcatcher!