Episode notes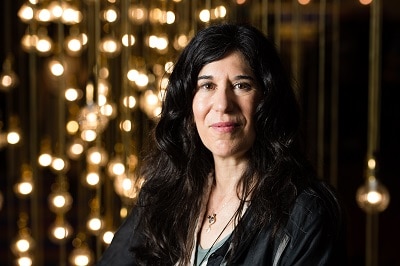 Photo: Jeff Spicer/Getty Images
Debra Granik on her new film 'Leave No Trace'
Debra Granik, wrote and directed the acclaimed 2010 film "Winter's Bone." The film was sort of a modern film noir, except instead of LA or New York, it was set in the Ozarks. It followed a 17-year-old girl as she pieced together the story behind her father's disappearance. Ree Dolly walked through burned out meth labs, negotiated with crime families, bail bondsmen and cops. And, of course: Ree Dolly was played by Jennifer Lawrence. It was her first ever starring role.
After 8 years, Granik just released her follow up – it's called "Leave No Trace," which is available to stream on Amazon now. Like "Winter's Bone," her new film "Leave No Trace" puts a compelling but compassionate focus on marginalized groups – one of the main threads is a combat veteran's struggle with trauma and homelessness.
It tells the story of a father and daughter who live entirely off the grid in a nature reserve not far from Portland, Oregon. The film details regular life for Will (Ben Foster) and his daughter Tom (Thomasin McKenzie). They forage and cook mushrooms. Will teaches Tom to play chess. They build fires for warmth. The way they live is peaceful, but not exactly legal. They are discovered in the woods by the police and social workers get involved, offering housing, work, school. But as you might imagine, it's a tough transition – especially for Will.
Debra Granik talks about the process of making her new film at length. Debra is also working on a film based on the book "Nickeled and Dimed," which is a thoroughly investigated, brilliant work of nonfiction about the impact of the 1996 welfare reform act on the working poor in the US. She'll tell us how she plans to turn that into a narrative film. Plus, she explain what she learned about film making from being wedding videographer long before she was a film director.
This interview originally aired in July of 2018
About the show
Bullseye is a celebration of the best of arts and culture in public radio form. Host Jesse Thorn sifts the wheat from the chaff to bring you in-depth interviews with the most revered and revolutionary minds in our culture.
Bullseye has been featured in Time, The New York Times, GQ and McSweeney's, which called it "the kind of show people listen to in a more perfect world." Since April 2013, the show has been distributed by NPR.
If you would like to pitch a guest for Bullseye, please CLICK HERE. You can also follow Bullseye on Twitter, YouTube, and Facebook. For more about Bullseye and to see a list of stations that carry it, please click here.
How to listen
Stream or download episodes directly from our website, or listen via your favorite podcatcher!