Episode notes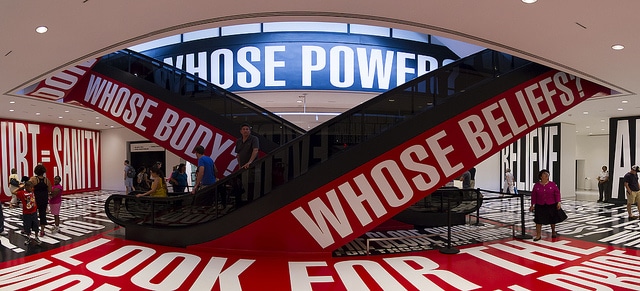 Photo: kyle.tucker95/Flickr
Barbara Kruger On Art School And The Rewards of Teaching
Barbara Kruger is a fascinating and profoundly influential artist. She works in big, bold text usually in white font over ribbons of red. The text is usually superimposed over black and white photos, usually of people. The messages say stuff like "YOUR BODY IS A BATTLEGROUND," "WE DON'T NEED ANOTHER HERO," or "DON'T BE A JERK."
If this doesn't ring a bell yet, you can find thousands of samples of her work on the internet. Maybe the fonts and colors remind of you something: the Supreme logo? That Instagram filter? It all started with Barbara Kruger.
She does a lot of installation work these days, which is a fancy way of saying that her work just consumes entire rooms – huge rooms with huge strange writing taking up every inch of floor, ceiling, and walls.
Her messages are pretty clear: it's about politics, media, and culture, and the way it's presented provokes people to question themselves.
Her work is on display in Los Angeles at the Broad Contemporary Art Museum, and in contemporary museums across the world.
Click here to listen to Barbara Kruger's interview on YouTube.
About the show
Bullseye is a celebration of the best of arts and culture in public radio form. Host Jesse Thorn sifts the wheat from the chaff to bring you in-depth interviews with the most revered and revolutionary minds in our culture.
Bullseye has been featured in Time, The New York Times, GQ and McSweeney's, which called it "the kind of show people listen to in a more perfect world." Since April 2013, the show has been distributed by NPR.
If you would like to pitch a guest for Bullseye, please CLICK HERE. You can also follow Bullseye on Twitter, YouTube, and Facebook. For more about Bullseye and to see a list of stations that carry it, please click here.
Get in touch with the show
How to listen
Stream or download episodes directly from our website, or listen via your favorite podcatcher!