Thanks again to everyone who's joined, boosted, upgraded, or spread the word about the MaxFunDrive! This is a weird year, and you've all been incredibly supportive. <3
A couple big announcements this week starting with the one everyone's been asking about:
---
Pin sale for charity starts today!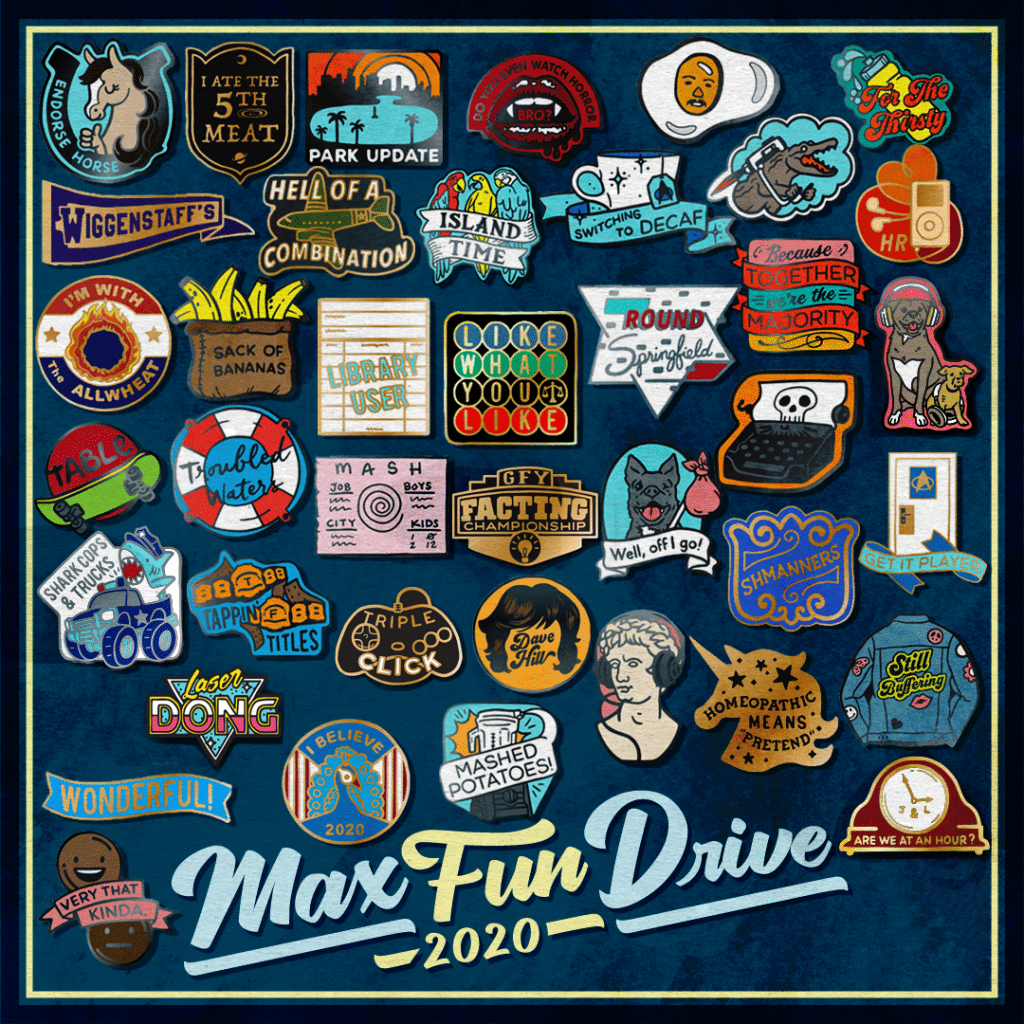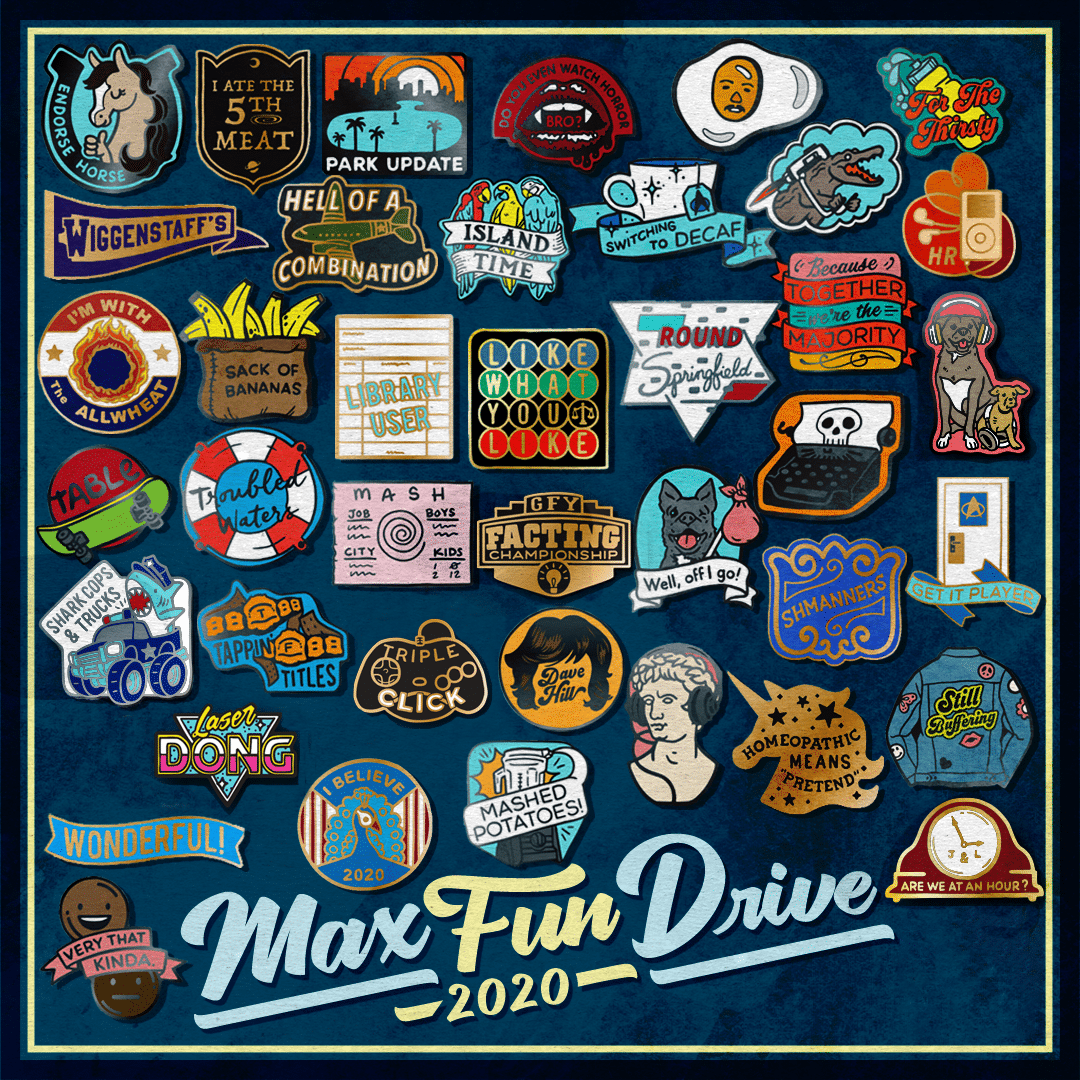 We didn't set a new and upgrading members goal this year, and that goal is how we usually decide whether or not we have a pin sale. This year, we talked about it before the Drive started and we decided we'd have a pin sale no matter what our number ends up being. So, starting TODAY, the exclusive enamel pins will be on sale for a limited time for all active members at the $10 monthly membership level or above—with proceeds going to Give Directly to help get COVID-19 cash relief to families in need across America.
If you're already at the $10 level, you will be getting an email with more details on how to purchase pins later today. If you were planning on jumping up to the $10 level in the next couple of weeks, we'll be sending out pin sale info to everyone who's at that level by the end of the pin sale on August 14, so you can still get in on it! For those of you who just joined at or upgraded to the $10 level this year, please note that this sale is just for additional pins—you'll still be getting your gift* pin separately in the mail! Turn your love of podcast swag (alchemy-like) into direct help for folks who really need it.
---
Livestreams for charity!
Our MaxFun Dinner Party was such a delight! With the help of the folks who tuned in, we raised over $1,800 for Meals on Wheels America! If you missed the show, the video is up now for you to enjoy with dinner whenever you have the time. We encourage you to keep donating to Meals on Wheels if you have the means to—they're doing important work helping to feed some of the most vulnerable people in the US.
Standup Showcase on July 31!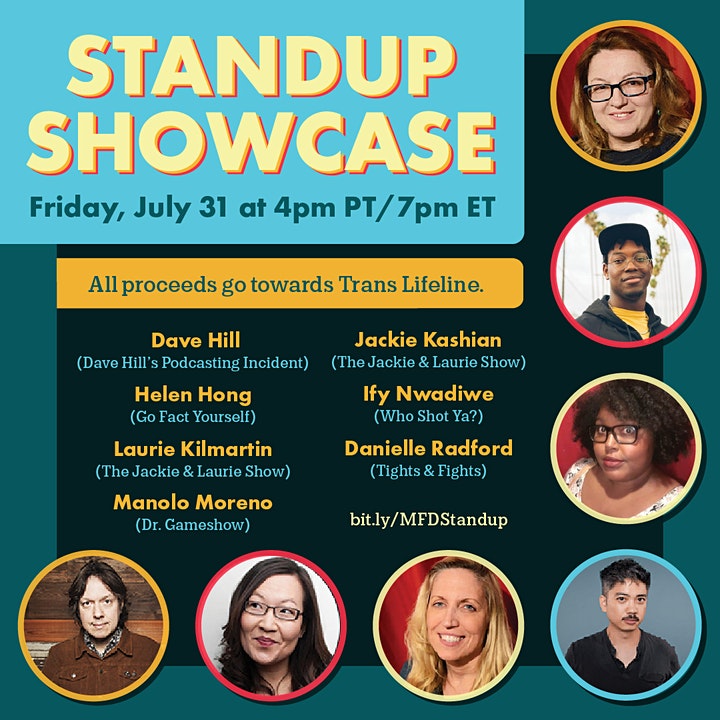 Our next livestream is this Friday, July 31 at 4pm PT / 7pm ET!  Ify Nwadiwe (Who Shot Ya?) is emceeing our Standup Showcase featuring MaxFun hosts/comedians Jackie Kashian (The Jackie and Laurie Show), Laurie Kilmartin (The Jackie and Laurie Show), Helen Hong (Go Fact Yourself), Dave Hill (Dave Hill's Podcasting Incident), Manolo Moreno (Dr. Gameshow), and Danielle Radford (Tights & Fights). There's a suggested donation of $5 for each ticket, but you're welcome to give more or less, and all proceeds go to benefit Trans Lifeline. For just five bucks you can feel like you're sitting at a comedy show with your pals across the world, while helping support transgender folks at the same time. Please note: This event will not be recorded.
MaxFunDrive Finale Show on August 7!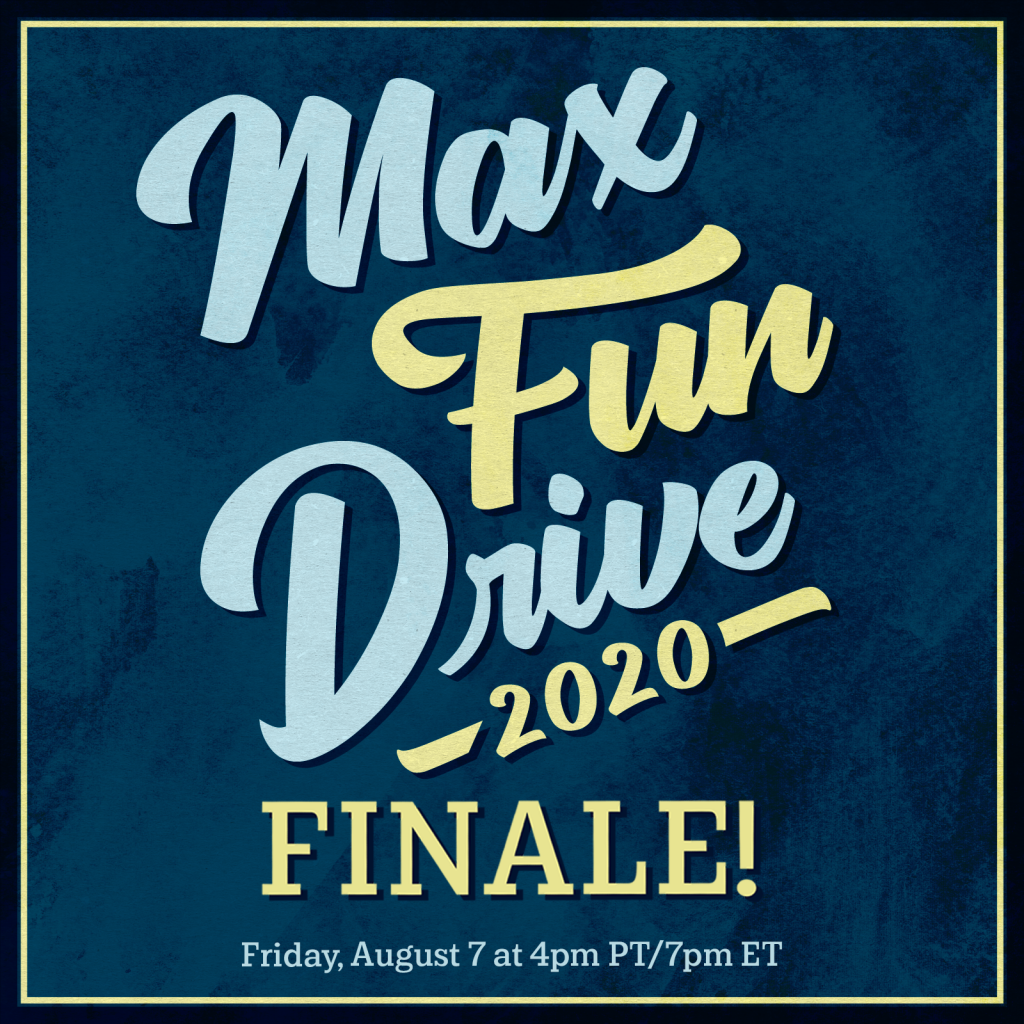 It's our annual tradition: a livestreamed finale extravaganza will bring the MaxFunDrive to a close! We won't be gathering in person this year, but we're doing our best to make it special and bring a bunch of your favorite hosts to your living room. Mark your calendars for Friday, August 7 at 4pm PT / 7pm ET, and invite all your friends! This event is free for all to watch, though we'll be encouraging donations to Give Directly – the same organization we'll be donating our pin sale proceeds to. More on this next week!
Keep an eye on our calendar for a list of upcoming events!
---
Gift memberships coming this week!
We debuted the boost feature last week, and later this week we'll bring out the ability to purchase gift memberships! If there's a MaxFunster in your life that you'd like to give the gift of MaxFun to, you'll be able to purchase a one-year gift membership for them. All you'll need to have on hand is their email address, name, and a message for them (if you'd like to send one). After you purchase the membership, we'll reach out to your gift-getter on the day you specify to have them complete the rest of the membership—most importantly, we'll ask them to choose which MaxFun shows they'd like their contributions to go towards.
If you'd like to help somebody who has had to stop their membership due to COVID-19, you can also opt to purchase a gift membership for an anonymous MaxFunster!
We'll be sure to announce all over the place once gift memberships are available. To all the folks asking us about it, thanks for your patience!
---
That's it for now! Hope to see you at Friday's standup show, and have a great week!
If you'd like to get info like this in your inbox, you can sign up to receive our newsletters at bit.ly/maxfunnewsletter.