What does boosting a membership mean?
Every year we hear from MaxFun members who want to participate in the MaxFunDrive and increase their support for the shows they love, but aren't in a position to commit to the next membership level. But we have a brand new way for folks to easily boost their membership through our website! So, if you weren't quite comfortable upgrading to the next membership level (we totally get it!), you now have the option to boost your membership to any amount in between levels.
Will boosting get me a gift? Will it count me towards shows' member goals?
Boosting won't get you any gifts, but it is a really easy way to increase your support, especially if you've started listening to new shows this year. But, if you boost, you will count as a new and upgrading member! We don't have a new and upgrading member goal this year*, but some shows on the network have their own goals, and your boost would count towards those.
How do I boost my membership?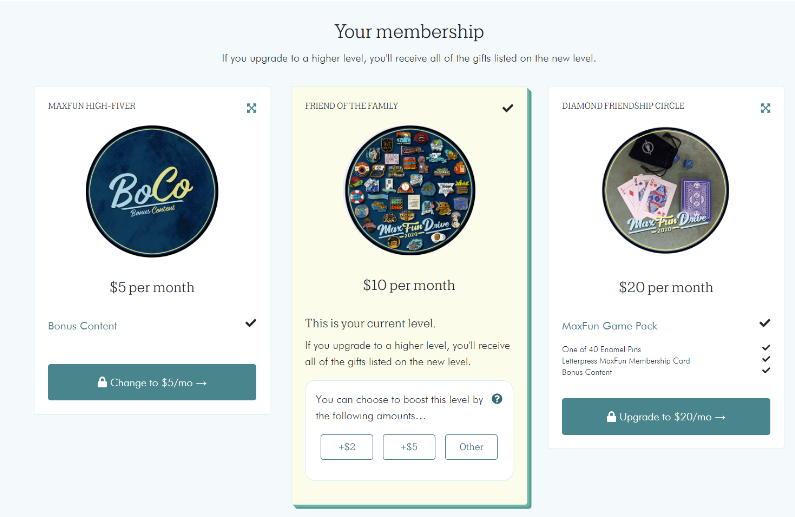 You can add a Boost using the same process you would use to upgrade or change the shows you support: go to maximumfun.org/manage, enter the email address associated with your MaxFun membership to be sent an email with a link that will take you to our membership management system. Then, click on your contribution amount. On the next screen you'll be able to choose the amount to add to your existing membership. So if you are a "Friend of the Family" contributing $10 a month, and want to start giving $15 a month, you can boost your membership by $5. If the amount you want to boost by isn't listed on its own button, then you can click "Other" and add in your own amount, so long as it is a whole number.
When you complete the boost process, your card will immediately be billed for your "boost" amount ($5 for the Friend of the Family in our example). Then, every month from here on out, you'll be charged for the new total amount ($15 in our example), to be distributed amongst the shows you have chosen to support. After that you can sit back and enjoy knowing that you've helped out some of your favorite shows!
Thank you to all of the folks who've asked us for this feature and to everyone who's boosted already!
*Since we don't have a new and upgrading members goal, we announced that we will be doing a pin sale for all $10+ members no matter what number we end at. We haven't released all of the details yet, but we wanted folks to rest assured they will still have a chance to get a 2020 pin that way.