Episode notes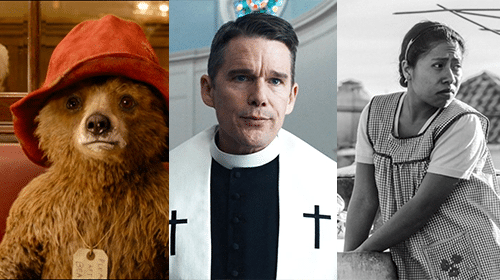 Paddington 2, First Reformed, Roma
It's that "Top Ten" time of the year. And 'Who Shot Ya?' is no different. It's the year end episode! In studio we've got Drea Clark, Alonso Duralde, and Ricky Carmona, who all provide their top ten movie lists of 2018. We also get to hear from April, who is still stanning for Coralie Fargeat's Revenge. The crew gets a call from the incomparable Inkoo Kang, who discusses her top movies of the year. Plus, she goes deep on First Reformed, and provides Ricky with an unconventional musical recommendation. The in studio crew also discusses the trends in news from 2018. And as always, staff picks.
Weekly Movie Recommendations:
Ricky – Grace Jones: Bloodlight and Bami
Alonso – Minding the Gap
Drea – De Palma
TOP TEN LISTS:
APRIL – 10. The Rider / Let The Corpses Tan / Zama / Mandy, 9. If Beale Street Could Talk, 8. You Were Never Really Here, 7. Revenge, 6. Hereditary, 5. Eighth Grade, 4. Burning, 3. Blindspotting, 2. Leave No Trace, 1. First Reformed
DREA – Annihilation, Leave No Trace, Eighth Grade, Roma, Spider-Man: Into the Spider-Verse, If Beale Street Could Talk, Border, The Favourite, The Guilty, Night Comes On
INKOO – 10. Shoplifters, 9. Burning, 8. Eighth Grade, 7. The Rider, 6. The Sisters Brothers, 5. The Favourite, 4. If Beale Street Could Talk, 3. Leave No Trace, 2. First Reformed, 1. Roma
RICKY – 10. Sorry to Bother You, Black Panther, A Star Is Born, Mandy, Mission: Impossible – Fallout, Incredibles 2, Widows, Hereditary, 1A. Roma, 1B. BlacKkKlansman
ALONSO – 10. Eighth Grade, 9. Support the Girls, 8. Happy as Lazzaro, 7. The Hate You Give / If Beale Street Could Talk, 6. The Other Side of the Wind, 5. The Sisters Brothers, 4. Lean On Pete, 3. Leave No Trace, 2. Roma, 1. Paddington 2
With April Wolfe, Inkoo Kang, Drea Clark, Alonso Duralde, and Ricky Carmona.
You can let us know what you think of Who Shot Ya? at @WhoShotYaPod on Twitter. Or email us at whoshotya@maximumfun.org
Call us on the "Who Shotline" – WSY-803-1664
Produced by Casey O'Brien and Laura Swisher for MaximumFun.org.
About the show
A movie podcast that isn't just a bunch of straight white dudes. Comedian Ify Nwadiwe is joined by film producer Drea Clark and film critic Alonso Duralde for a fast, funny, flight through film. Who Shot Ya? is news, reviews and in-depth insight, beamed directly into your ears every week.
Email whoshotya@maximumfun.org and follow the show on Twitter @whoshotyapod.
How to listen
Stream or download episodes directly from our website, or listen via your favorite podcatcher!