Episode notes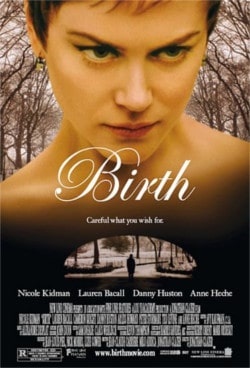 Birth
We are joined by the wonderful comedian, writer, and actor Kate Berlant. She's on the show to talk about the underappreciated Jonathan Glazer film, Birth. April and Kate dive right into this truly unique movie about a woman who's dead husband may have come back as a 10 year old boy. They make the case for this being Nicole Kidman's best performance as the role is so perfectly catered to her. They discuss the inspired vision of Jonathan Glazer and how he was the only one who could make this film. The two talk about Kate's role in Sorry to Bother You and her short film series 555. Kate elaborates on what goes into writing comedy and the kinds of white people she makes fun of. Plus, she explains why she feels compelled to make silly faces as a form of protest.
You can watch 555 on Vimeo now.
Check out Kate in Sorry to Bother You
And if you haven't seen it yet, go watch Birth
With April Wolfe with Kate Berlant,
You can let us know what you think of Switchblade Sisters at @SwitchbladePod on Twitter. Or email us at switchbladesisters@maximumfun.org
Produced by Casey O'Brien and Laura Swisher for MaximumFun.org.
About the show
Switchblade Sisters is a podcast providing deep cuts on genre flicks from a female perspective. Every week, screenwriter and former film critic April Wolfe sits down with a phenomenal female film-maker to slice-and-dice a classic genre movie – horror, exploitation, sci-fi and many others! Along the way, they cover craft, the state of the industry, how films get made, and more. Mothers, lock up your sons, the Switchblade Sisters are coming!
Follow @SwitchbladePod on Twitter and join the Switchblade Sisters Facebook group. Email them at switchbladesisters@maximumfun.org.
How to listen
Stream or download episodes directly from our website, or listen via your favorite podcatcher!