Episode notes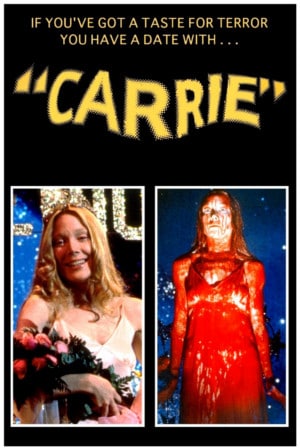 Carrie
This week, we are joined by the directors of the brand new Ruth Bader Ginsburg documentary, RBG, Betsy West and Julie Cohen. They are on to discuss the Brian De Palma classic Carrie. Believe it or not, in this episode several similarities are drawn between the "Notorious RBG" and Carrie White. Julie and Betsy discuss what the world was like when Carrie was released and the type of workplace humiliations they had to put up with back then. Betsy even shares a story involving a penis shaped cake. They dig into the importance and power of Justice Ginsburg and how she actually changed the world. They also discuss the techniques they use to interview people, making sure not to manipulate the audience, and staring at Ruth Bader Ginsburg while she watched the documentary.
RBG opens theatrically on May 4th.
If you haven't seen it yet, go watch Carrie
With April Wolfe, Betsy West and Julie Cohen
You can let us know what you think of Switchblade Sisters at @SwitchbladePod on Twitter. Or email us at switchbladesisters@maximumfun.org
Produced by Casey O'Brien and Laura Swisher for MaximumFun.org.
In this episode...
Guests
April Wolfe
Betsy West
Julie Cohen
About the show
Switchblade Sisters is a podcast providing deep cuts on genre flicks from a female perspective. Every week, screenwriter and former film critic April Wolfe sits down with a phenomenal female film-maker to slice-and-dice a classic genre movie – horror, exploitation, sci-fi and many others! Along the way, they cover craft, the state of the industry, how films get made, and more. Mothers, lock up your sons, the Switchblade Sisters are coming!
Follow @SwitchbladePod on Twitter and join the Switchblade Sisters Facebook group. Email them at switchbladesisters@maximumfun.org.
How to listen
Stream or download episodes directly from our website, or listen via your favorite podcatcher!