Episode notes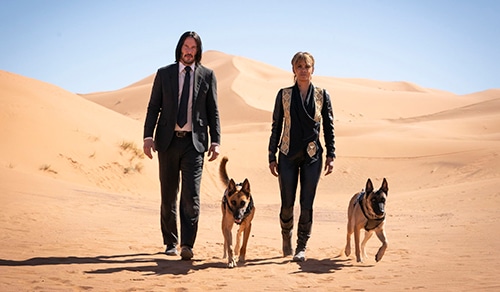 John Wick: Chapter 3 – Parabellum
This week we have a brand new guest host, the wonderful comedian Dwayne Perkins. He joins Alonso and Drea to talk about the newest installment in the John Wick franchise,
John Wick: Chapter 3 – Parabellum
. The gang does their best to estimate the number of people that John Wick killed throughout the film. Plus, they discuss the career of the universally beloved, Keanu Reeves. They answer a question from the "Who Shotline" that inquires about which directors they first fell in love with. And to finish things off, as always, we've got staff picks.
In news, Chris Rock is bringing back the Saw franchise, Quentin Tarantino begs the Cannes filmgoers not to spoil his film, Michelle Rodriguez signs on for another Fast & Furious, and the internet is unhappy with the idea of a Robert Pattinson Batman.
Staff Picks:
Alonso – We Have Always Lived in the Castle
Drea – See You Yesterday
Dwayne – Cooley High
With Alonso Duralde, Drea Clark, and Dwayne Perkins.
You can let us know what you think of Who Shot Ya? on Twitter or Facebook. Or email us at whoshotya@maximumfun.org
Call us on the "Who Shotline" – WSY-803-1664
Produced by Casey O'Brien and Laura Swisher for MaximumFun.org.
About the show
A movie podcast that isn't just a bunch of straight white dudes. Comedian Ify Nwadiwe is joined by film producer Drea Clark and film critic Alonso Duralde for a fast, funny, flight through film. Maximum Film! is news, reviews and in-depth insight, beamed directly into your ears every week.
Email maximumfilm@maximumfun.org and follow the show on Twitter @maximum_film.
Get in touch with the show
How to listen
Stream or download episodes directly from our website, or listen via your favorite podcatcher!