Episode notes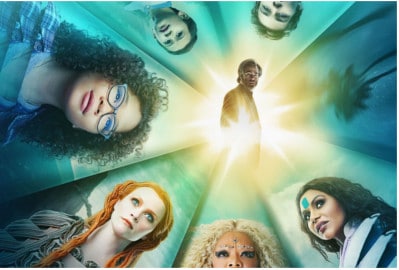 A Wrinkle in Time
We've got a very special episode this week as Alonso Duralde takes over hosting duties. He's joined by film critic for Tribune News Service and the LA Times, Katie Walsh, Vidiots Executive Director/Board Chair, Maggie Mackay, and our dear friend, producer and film festival programmer, Drea Clark. They break down the much discussed
A Wrinkle in Time
. They address the blowback the film has received, what they really liked about it, and the revolutionary nature of having a protagonist that is a woman of color. They also discuss kids movies in general and some of their favorites. In fact, a fight nearly breaks out over whether
The NeverEnding Story
is actually a good movie. PLUS, April Wolfe calls in from South by Southwest to give everyone an update.
In news, psychologist Jordan Peterson hates Frozen, Tommy Wiseau auditions for The Joker, production companies start adopting inclusion riders, and the man who stole Frances McDormand's Oscar pleads not guilty.
Weekly Movie Recommendations:
Alonso – Ramen Heads
Drea – No Light and No Land Anywhere
Katie – American Honey
Maggie – After Hours
PLUS, we have two Spotify playlists. One is for Movie Soundtracks and the other is for Movie Scores. Check 'em out!
Next week we're discussing Love, Simon.
With Maggie Mackay, Katie Walsh, Drea Clark, and Alonso Duralde.
You can let us know what you think of Who Shot Ya? at @WhoShotYaPod on Twitter. Or email us at whoshotya@maximumfun.org
Produced by Casey O'Brien and Laura Swisher for MaximumFun.org.
Guests
Alonso Duralde
Drea Clark
Katie Walsh
Maggie Mackay
April Wolfe
About the show
A movie podcast that isn't just a bunch of straight white dudes. Comedian Ify Nwadiwe is joined by film producer Drea Clark and film critic Alonso Duralde for a fast, funny, flight through film. Maximum Film! is news, reviews and in-depth insight, beamed directly into your ears every week.
Email maximumfilm@maximumfun.org and follow the show on Twitter @maximum_film.
Get in touch with the show
How to listen
Stream or download episodes directly from our website, or listen via your favorite podcatcher!