Episode notes
Marybeth and Paul are a couple of busy animal loving attorneys who already own a dog and a cat. Marybeth would like to add another dog to their family to help their current toy schnauzer, Olive, relax. Paul argues that with their busy schedule, and the already antsy Olive, another dog would only exacerbate the situation.
Will the Judge mandate they double down on their puppy love, or will he send this idea to the dog pound? Find out on this week's Judge John Hodgman.
STREAM OR DOWNLOAD THIS PODCAST
SUBSCRIBE TO THIS PODCAST in ITUNES or the RSS FEED
VIEW THE EVIDENCE
EVIDENCE
From Marybeth
A video of Olive's first Christmas.
Mabel playing ping pong.
And a photo of Olive and the cat together.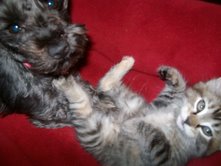 About the show
Have your pressing issues decided by Famous Minor Television Personality John Hodgman, Certified Judge. If you'd like John Hodgman to solve your pressing issue, please contact us HERE.
Follow @judgejohnhodgman on Instagram to view evidence from the cases tried in court.
Get in touch with the show
How to listen
Stream or download episodes directly from our website, or listen via your favorite podcatcher!