Episode notes
Jesse and Jessica are used to squaring off against one another when they play online word games on their smartphones. In this episode of Judge John Hodgman their rivalry spills into the courtroom as they litigate their literary license. Please use JUSTICE in a sentence!
A few months ago, Jessica made a last ditch effort to play her turn and plugged in a few letters. Surprisingly, the game accepted and points were awarded.
Jesse felt that without full knowledge of the word's spelling or its meaning, simply plugging in letters at random is "spamming" and therefore cheating.
Jessica ascertains that any word accepted by the game and not ill-gotten through outside help is perfectly legal and that "letter crunching" is just a way to play in the brave new world of on-line gaming.
Who's playing fair game, who's making it up and where CAN I play this Q? Only one man can decide, Justice of the Game-Piece, Judge John Hodgman.
STREAM OR DOWNLOAD THIS PODCAST
SUBSCRIBE TO THIS PODCAST in ITUNES or the RSS FEED
VIEW THE EVIDENCE
EVIDENCE
One screenshot of her defending a choice in her game with Jesse (her username is Born2BeMild)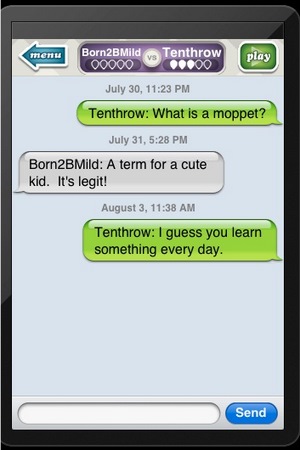 One screenshot of another recent game from Jesse with his mother, holding her to the same standards of knowing the definition to each word (his username is Tenthrow)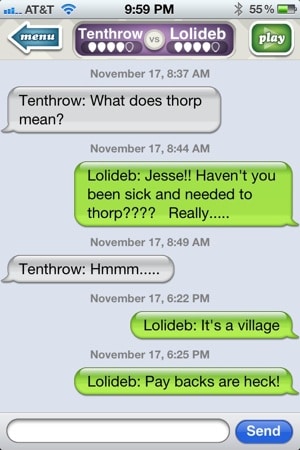 About the show
Have your pressing issues decided by Famous Minor Television Personality John Hodgman, Certified Judge. If you'd like John Hodgman to solve your pressing issue, please contact us HERE.
Follow @judgejohnhodgman on Instagram to view evidence from the cases tried in court.
Get in touch with the show
How to listen
Stream or download episodes directly from our website, or listen via your favorite podcatcher!