Episode notes
DVR WARS! Anthony brings this case against his good friend Joseph. Their issue arose when Anthony asked Joseph to record a reality TV cooking program for him. Joseph has an extensive cable TV package with digital video recording service, while Anthony has a much more basic set of channels and no DVR. Anthony has asked his friend to record multiple shows for him, but never consistently comes over to watch them. The shows sit on the DVR, taking up space and annoying Joseph.
Is Anthony obligated to watch the shows after he's requested them?
STREAM OR DOWNLOAD THIS PODCAST
SUBSCRIBE TO THIS PODCAST
VIEW THE EVIDENCE
John Hodgman's final book of trivia and world knowledge, THAT IS ALL, is now available in bookstores (that are still around) and online retailers. To find out when he may be visiting a city near you, see Areas of My Expertise.
Evidence
Submitted by Anthony
"Please accept, as evidence, this email exchange upon my most recent request for my friend's digital video recording services. I believe the irascibility of his tone serves to bolster my case."
On Fri, May 6, 2011 at 1:20 PM, Anthony <[redacted]@gmail.com> wrote:
Do you get the cooking channel? I don't. There is a show on there called The Originals with Emeril. My cousin is on the premier episode, "San Francisco". If you get it, please record it for me so I can check it out.
From: Joe [mailto:[redacted]@gmail.com]
Sent: Friday, May 06, 2011 1:30 PM
To: Anthony
Subject: Re: Cooking Channel
OK, but you always ask me to record shows that you never watch.
Submitted by Joseph
"Why is the last show I recorded from June still on my DVR after 4 months? Because T told me he'll stop by and record it to his laptop!!! And he tells me this every 2 months. I've attached an image of my DVR recordings as proof that the show is still saved!!"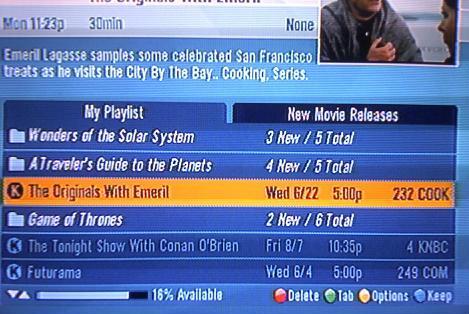 About the show
Have your pressing issues decided by Famous Minor Television Personality John Hodgman, Certified Judge. If you'd like John Hodgman to solve your pressing issue, please contact us HERE.
Follow @judgejohnhodgman on Instagram to view evidence from the cases tried in court.
Get in touch with the show
How to listen
Stream or download episodes directly from our website, or listen via your favorite podcatcher!