Episode notes
Jeff says his live-in girlfriend Courtney habitually hides food from him. Courtney admits that she's hidden food in the past, but only to save Jeff from his own ravenous tendencies, and that she has since stopped the practice. Is Courtney a FOOD-HOARDER, or is Jeff a FOOD-STEALER?
You may view the evidence after the jump, and as always, you may subscribe to the podcast in iTunes or through this RSS feed.
Evidence
A photo of the Long Island treat, Pizza Crumb.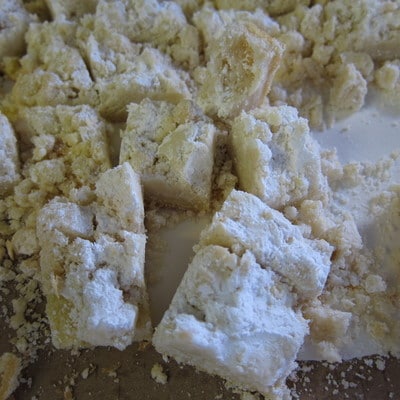 Also, submitted by Courtney: A written testimonial.
To the Honorable Judge John Hodgman:
I am writing out this testimony on behalf of Courtney, the defendant.
I arrived late on Tuesday the 12th of April 2011, to the home of Jeff and Courtney. I brought with me, as a gift to my friend, a delicious treat, available only at the Hummel Hummel Bakery on Long Island, NY. Pizza Crumb (the delicious treat) is named, because it is pizza shaped and is served to you in a pizza box. Unable to take it on the plane this way, I cut it into sections and wrapped them in tinfoil. I arrived, with 3 wrapped blocks of Pizza Crumb, with 2 slices per block. The first night, Jeff ate two slices, and Courtney had one. The next morning, Courtney had already left for work, and before Jeff left for his job, he had another slice for breakfast, already consuming half the amount of Pizza Crumb within 15 hours of its arrival. When Courtney got home from work, I alerted her to the situation. Fearing she wouldn't get her fair share of the treat, that I brought FOR HER, I suggested hiding the remaining pieces of Pizza Crumb, so she would be able to enjoy them, but she was apprehensive, having hid things before and Jeff getting upset about it. So, I proposed that I hide it on her behalf, that way she wouldn't be at fault; she agreed. The remaining two slices were placed in my bag for safe keeping. When Jeff returned home that night from work, I told him the rest of the Pizza Crumb had been eaten, he said he was glad.
For the next 3 days, I would remove the Pizza crumb from my bag and Courtney would enjoy half a slice for breakfast. Afterwards I would return it to my bag for safe keeping. On the fourth day (Saturday, the 16th of April 2011) we left out the remaining half slice, and it was discovered by Jeff. The last of the Pizza Crumb was consumed by Courtney and Jeff's friend Kevin.
On another day, Courtney and I planned to go out and get Dim Sum, before leaving we asked Jeff if he would like us to get him anything. He said no. Courtney asked him a second time, telling him if he wanted something he should let her know. Again, he said no. When we returned, he immediately began to help himself to a pork bun. Luckily, Courtney anticipated this and brought back more food than she and I could eat. But had she listened to him, and not ordered anything for him, he would have been eating her share of food.
I trust, with my provided testimony, you will see that Jeff is in the wrong.
Sincerely,
Gabrielle
About the show
Have your pressing issues decided by Famous Minor Television Personality John Hodgman, Certified Judge. If you'd like John Hodgman to solve your pressing issue, please contact us HERE.
Follow @judgejohnhodgman on Instagram to view evidence from the cases tried in court.
Get in touch with the show
How to listen
Stream or download episodes directly from our website, or listen via your favorite podcatcher!