Episode notes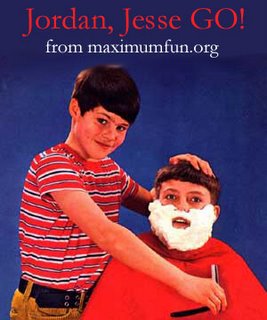 Gene sits in for Jesse while he's camping in the mountains.
Introduction
Gene and Jordan talk about how unqualified they are to be running this week's podcast. One thing is made clear: This is sure to be the "drinkiest" JJGo ever.
Career Choices
Jordan and Gene discuss their dream jobs and backup plans.
Moving Pictures
This week on
Jordan Went to the Movies
:
The Simpsons
,
The Ten
, and a preview of the forthcoming
Shoot 'Em Up
. Bonus: More discussion of
Live Free or Die Hard
.
Pets, etc.
The urge to kill the easily killable, why babies and pets don't mix, the joys of unemployment, and Jordan's dad.
Baseball
This week's
Forced Discussion of Current Events
: Barry Bonds!
Zoo Animal Showdown!
Giraffe Vs. Capybara
Find out the winner and vote on the…
Next Match-up:
Penguin Vs. Python

Show Verdict: C-
*
Share your dream job and backup plan. Or, if you're a grown-up, tell us: Are you living THE DREAM or THE CONTINGENCY PLAN?
*Vote in the Zoo Animal Showdown! Visit the forum for details.
* Review the show on iTunes.
* Do you have a dispute Judge John Hodgman can solve on a future broadcast? Email it to us! Put Judge John in the subject line.
* Have personal questions for Jesse and Jordan? Call 206-984-4FUN and tell us what they are!
* Would you like to play Would You Rather with us on a future episode? Email us or give us a call at 206-984-4FUN.

Call 206-984-4FUN to share your thoughts on these ACTION ITEMS.
Subscribe in iTunes
Podcast Feed
Discuss the show on the forum
Download This Episode
Hear This Episode Now
Our theme music: "Love You" by The Free Design, courtesy of The Free Design and Light in the Attic Records
About the show
What is the dumbest show you can imagine? This award-winning show may be dumber. It has no content. No format. Yet it's going on thirteen years of delighting hundreds of thousands of people. It's been an iTunes editor's choice, and Rolling Stone picked it as one of the world's best comedy podcasts. It's light in the dark, comfort in the cold, and a penguin in the pants (long story).
Join hosts Jesse Thorn (NPR's Bullseye) and Jordan Morris (Comedy Central's @Midnight) and a celebrity guest on a raucous, vulgar, and warm-hearted romp that might just leave you a better person. And will certainly make you dumber.
Call in a Momentous Occasion at 206-984-4FUN or email jjgo@maximumfun.org.
How to listen
Stream or download episodes directly from our website, or listen via your favorite podcatcher!