Episode notes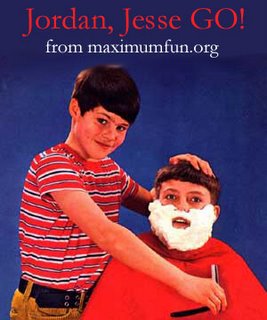 Jesse and Jordan had eventful weekends.
Introduction
As Jesse and Jordan introduce the show, Tim the Intern digs them some holes.
New York City
Jordan visited New York City over the weekend. We discuss Picasso's under-heralded "Minotaur Period," as well as the Del Close Marathon.
Gene's Recovery
Gene remains in critical condition after being shot on last week's show. Cross your fingers for him.
Comic Book Convention
Jesse and Jordan both went to the comic book convention, and had very mixed reactions. Also: Jordan met Peter Fonda and Peter Fonda's beautiful teeth.
A graceful denoument to a brilliant program.

*Vote in the next round of the Zoo Animal Showdown!
*Jesse's going on vacation next week. Call in and ask a question you wouldn't want Jesse to be there for.
* Have you ever participated in any kind of underground nerd sex party?
* Review the show on iTunes.
* Do you have a dispute Judge John Hodgman can solve on a future broadcast? Email it to us! Put Judge John in the subject line.
* Have personal questions for Jesse and Jordan? Call 206-984-4FUN and tell us what they are!
* Would you like to play Would You Rather with us on a future episode? Email us or give us a call at 206-984-4FUN.

Call 206-984-4FUN to share your thoughts on these ACTION ITEMS.
Subscribe in iTunes
Podcast Feed
Discuss the show on the forum
Download This Episode
Hear This Episode Now
Our theme music: "Love You" by The Free Design, courtesy of The Free Design and Light in the Attic Records
About the show
What is the dumbest show you can imagine? This award-winning show may be dumber. It has no content. No format. Yet it's going on thirteen years of delighting hundreds of thousands of people. It's been an iTunes editor's choice, and Rolling Stone picked it as one of the world's best comedy podcasts. It's light in the dark, comfort in the cold, and a penguin in the pants (long story).
Join hosts Jesse Thorn (NPR's Bullseye) and Jordan Morris (Comedy Central's @Midnight) and a celebrity guest on a raucous, vulgar, and warm-hearted romp that might just leave you a better person. And will certainly make you dumber.
Call in a Momentous Occasion at 206-984-4FUN or email jjgo@maximumfun.org.
How to listen
Stream or download episodes directly from our website, or listen via your favorite podcatcher!