Episode notes
Go Fact Yourself is coming to Chicago! Join us on August 9 & 10 at Sleeping Village. Visit gofactyourpod.com for tickets and details.
Cristela Alonzo is a comedian and former guest on Go Fact Yourself. This week, she's stepping in as the co-host! Her new book "Music to My Years" will be out in October.
Jessica McKenna is known for the podcast "Off Book" where she and her co-host Zach Reino improvise a full musical with special guests… even if the guests aren't totally aware of what's going on when they first join the program. Jessica is also a voice-artist who's cornered a very specific portrayal: scrappy ten-year-old boys. She'll explain what's behind her expertise.
Jessica will face off against someone who also knows a lot about musicals: actor Anthony Rapp. He was part of the original cast of Rent and now stars on the CBS show "Star Trek: Discovery." You could say he's a pretty accomplished guy, but he'll tell us about his formative years where he got some unsolicited advice from legendary stage actor Yul Brynner.
The guests will also discuss American presidents, contemporary films and denim jackets.
What's the Difference: Pay me back
What's the difference between "loan" and "lend?"
What's the difference between a charge card and a credit card?
Areas of Expertise
Jessica McKenna: American Presidents, the musical Hamilton and Christmas & Christmas movies
Anthony Rapp: The Coen Brothers movies, the Chicago Cubs baseball team from the early 2000's to the present and the Mass Effect video-game series.
Appearing in this episode:
J. Keith van Straaten
Cristela Alonzo
Jessica McKenna
Anthony Rapp
With guest experts: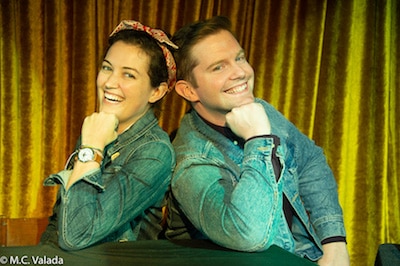 Jessica McKenna and Rory O'Malley
Rory O'Malley
, Tony Award-nominated actor who's performed in the stage shows
Hamilton
and
The Book of Mormon
.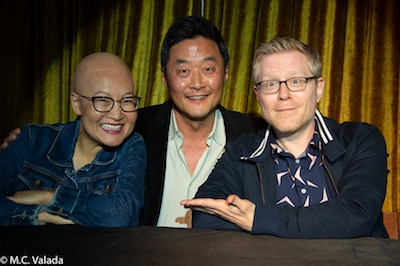 Helen Hong, Stephen Park and Anthony Rapp
Stephen Park
, actor who's known for his performances in the films
Fargo
and
Do the Right Thing
.
Helen Hong, comedian and actress who appeared in the film Inside Llewyn Davis and who's the regular co-host of Go Fact Yourself!
Go Fact Yourself was devised by Jim Newman and J. Keith van Straaten, and produced in collaboration with Maximum Fun. The show was recorded at The Angel City Brewery in Los Angeles.
Theme Song by Jonathan Green.
Maximum Fun's Senior Producer is Laura Swisher.
The show is edited by Julian Burrell.
Guests
Anthony Rapp & Jessica McKenna
Rory O'Malley, Stephen Park & Helen Hong
Cristela Alonzo
About the show
Twice a month, host J. Keith van Straaten and co-host Helen Hong quiz the smartest celebrities they know to find out why they love what they love! Recorded before a live audience in downtown Los Angeles, this game show features comedians, actors, and musicians answering arcane questions on topics they claim to be experts in. But don't worry; if they slip up, there are real experts on hand to give us the facts!
If you're in the Los Angeles area and would like to be in the audience for a podcast taping, get your free ticket at http://www.gofactyourpod.com!
Get in touch with the show
How to listen
Stream or download episodes directly from our website, or listen via your favorite podcatcher!