Episode notes
This week, Tre'Vell and Jarrett are keeping things a bit light and talking controversial food opinions. But first they spill the tea and Pass the Popcorn over Joe Exotic and the peak White crazy of Tiger King.
NPR's It's Been A Minute host Sam Sanders joins the show to talk about chicken. Is a boneless wing considered a wing? Is it ever okay for Black folk to eat chicken in front of White PayPal? What if they're doing it while singing an absolute banger about a crispy chicken sandwich? 
We'll chat about that controversial Mary J Blige commercial and unpack the shame and stereotypes behind chicken. Plus, Sam shares the history behind some of the racist tropes involving Black people and food. Turns out, the story behind Black people loving watermelon has its origins in Black liberation. 
Before we go, it's recently been reported that Black  people are disproportionately impacted by COVID – 19 and are dying at higher rates. If you're looking for resources on how you can help from home, here's a great place to start.
EPISODE NOTES
Mychael Chinn's The Clark Sisters: First Ladies of Gospel premieres this Saturday on Lifetime.
Pass the Popcorn
Articles Referenced on the Show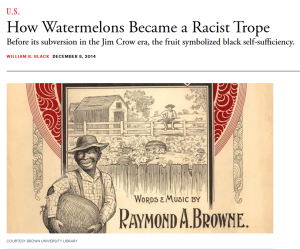 Source: The Atlantic
CodeSwitch: Where Did That Fried Chicken Stereotype Come From?
DIS/Honorable Mentions 
Sam – In dishonor of Mr. Whoever Runs Twitter Sam would like to shout out comedian Jaboukie Young-White who was recently suspended from Twitter for tweeting as Presidential hopeful Joe Biden.
Jarrett – Shout out to Shar Jossell for the lofi hip hop vibes on ChilledCow recommendation.
Tre'Vell – The P's both Master and Tyler.
Go ahead and @ us
Email: FANTI@maximumfun.org
Insta
@rayzon (Tre'Vell)
Twitter
@Swish (Producer Laura Swisher)
FANTI is produced and distributed by MaximumFun.org
Laura Swisher is the senior producer.
About the show
Sometimes the people, places, and things we love don't love us back. We're fans, but we also have some ANTI- feelings toward them. Every week on FANTI, journalists Tre'vell Anderson and jarrett hill bring their pop culture and political expertise to things we must stan and stand up against. FANTI is a place where nuance reigns supreme with energetic, complicated, and sometimes difficult conversations that bring deep knowledge and thoughtful perspective to the things we love and rage about, from the White House to the Real House(wives).
Get in touch with the show
How to listen
Stream or download episodes directly from our website, or listen via your favorite podcatcher!
Liked THEE Reason Black People Don't Eat Chicken in Public (ft. Sam Sanders)? Listen to these next...