Episode notes
This week we're giving you bread and butter, salt and pepper, ice cream and jelly (is that just a Brit thing?). A classic pairing indeed, it's an Alexis and Ella episode. We have some strong opinions on animals in movies, animated creatures and the internal logic of Stuart Little. Alexis also dons her professors cap and gives an animal art history lesson. It's a very rainy English day as I (Ella) write this but Rosa Bonheur has given me a heightened appreciation for wild muddy countryside, disruptive women and sheep!
Send us YOUR pet stories (Ready, Pet, Go!) at comfortcreatures@maximumfun.org and don't forget to rate, review, and subscribe! Plus, follow us on social media: @Ccreaturespod on Twitter and @comfortcreaturespodcast on Instagram!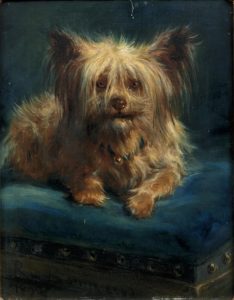 Portrait of TouTou by Rosa Bonheur (Though Alexis is convinced it's Crumb)
About the show
Comfort Creatures is a show for people who prefer their friends to have paws instead of hands! Every week, Alexis and Ella talk to guests about their pets or creatures that give them comfort, discuss their favorite fictional critters, learn about pets in history, and discover differences between pet ownership across the pond. Whether you have a giant sloth, two siamese skinks, or just know way too much about unicorns, every animal friend is welcome on Comfort Creatures!
Get in touch with the show
How to listen
Stream or download episodes directly from our website, or listen via your favorite podcatcher!
Liked Alexis + Ella Talk Talking Animals? Listen to these next...