Episode notes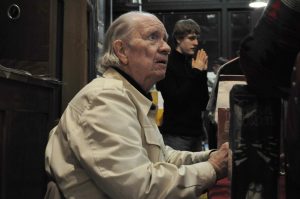 Photo: Wikimedia Commons / Joe Mabel
Remembering Gahan Wilson, legendary cartoonist for The New Yorker, Playboy and more
We lost an incredibly talented cartoonist last year, Gahan Wison. He died this past November at his home in Scottsdale, Arizona. He was 89.
For more than 50 years, his twisted single-panel cartoons have appeared in magazines like Playboy and The New Yorker. His work always had this really distinct tone. Gahan's take on the macabre is loopy, dark and strange. There were monsters. Sometimes aliens. Maybe a pirate.
To remember his life, his work and his impact we are resharing an interview we did with Gahan about a decade ago. He talked about the arc of his career and using childhood fears as inspiration. He also talked about his contributions to the National Lampoon.
When we talked to Gahan for this interview Fantagraphics had just published a 50-year retrospective of his work in Playboy. You can find this compilation, as well as others, online.
Click here to listen to this interview on YouTube.
This interview originally aired in January of 2010.
About the show
Bullseye is a celebration of the best of arts and culture in public radio form. Host Jesse Thorn sifts the wheat from the chaff to bring you in-depth interviews with the most revered and revolutionary minds in our culture.
Bullseye has been featured in Time, The New York Times, GQ and McSweeney's, which called it "the kind of show people listen to in a more perfect world." Since April 2013, the show has been distributed by NPR.
If you would like to pitch a guest for Bullseye, please CLICK HERE. You can also follow Bullseye on Twitter, YouTube, and Facebook. For more about Bullseye and to see a list of stations that carry it, please click here.
Get in touch with the show
How to listen
Stream or download episodes directly from our website, or listen via your favorite podcatcher!
Liked Remembering Gahan Wilson, legendary cartoonist for The New Yorker, Playboy and more? Listen to these next...