Episode notes
This week on The Sound of Young America, we rediscover our sense of wonder.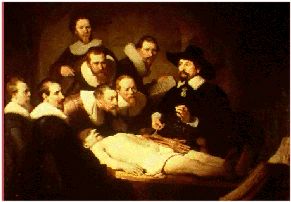 Lawrence Weschler spent over 20 years writing for The New Yorker, often profiling the sorts of empassioned eccentrics who change the world. His new book, "Everything That Rises: A Book of Convergences," examines the surprising overlaps in the world, and particularly in visual culture, as well as the meaning of those overlaps. (Seen to the left: Rembrandt's "The Anatomy Lesson" and Freddy Alborta's "The Death of Che")
Michael Ivins is the bassist (and more) of The Flaming Lips, a remarkable rock band who are perhaps more popular today than at any other point in their 20+ year history. Their sonic experimentation and melancholic comic touch are well known in the indie rock world, and so are their wild stage shows, which often include people in rabbit suits and members of the band rolling over the crowd in a giant hamster ball.
Incidental Music by DJW
Subscribe in iTunes
Donate to the Show
About the show
Bullseye is a celebration of the best of arts and culture in public radio form. Host Jesse Thorn sifts the wheat from the chaff to bring you in-depth interviews with the most revered and revolutionary minds in our culture.
Bullseye has been featured in Time, The New York Times, GQ and McSweeney's, which called it "the kind of show people listen to in a more perfect world." Since April 2013, the show has been distributed by NPR.
If you would like to pitch a guest for Bullseye, please CLICK HERE. You can also follow Bullseye on Twitter, YouTube, and Facebook. For more about Bullseye and to see a list of stations that carry it, please click here.
Get in touch with the show
How to listen
Stream or download episodes directly from our website, or listen via your favorite podcatcher!