Episode notes
This week's Sound of Young America returns to familiar territory — pranks and put-ons. We visit with a couple of old friends of the show who are geniuses of the field.
Our first guest is Matt Walsh. Matt's probably best known for being a founder of the Upright Citizens' Brigade. He was also a correspondent on The Daily Show, and has been seen in films like "Old School." His new series on Comedy Central, Dog Bites Man, is a hybrid of many genres. It follows a fictitious Spokane TV news team through real-life America. They interview real people while playing out a fictional storyline. They've gone to the Southern Republican convention and to a KKK picnic. The show was created by Dan Mazer, the co-creator of Da Ali G Show.
We also talk with Charlie Todd, the creator of a group called Improv Everywhere. Charlie's group stages massive street pranks in New York City, but they eschew pranks with victims. Instead, they focus on creating amazing experiences for ordinary people, and then dissapear — without revealing their identity.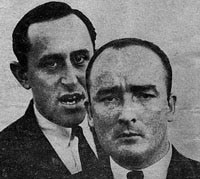 Also, we hear a street prank from Coyle & Sharpe, a remarkable pair of put-on artists who hosted a local AM radio show in San Francisco in the mid 1960s. Mal Sharpe was a comedian and radio man; James Coyle was a professional con artist. Together, they created some of the most amazing street pranks in history. We hear "Maniacs in a Living Hell" from their amazing CD "Coyle & Sharpe: Audio Visionaries." (Buy It)

Also: as part of our continuing partnership with Sketchfest NYC, we hear a brief sketch from Portland-based sketch group The Third Floor.

Incidental Music by DJW
Subscribe in iTunes
Donate to the Show
About the show
Bullseye is a celebration of the best of arts and culture in public radio form. Host Jesse Thorn sifts the wheat from the chaff to bring you in-depth interviews with the most revered and revolutionary minds in our culture.
Bullseye has been featured in Time, The New York Times, GQ and McSweeney's, which called it "the kind of show people listen to in a more perfect world." Since April 2013, the show has been distributed by NPR.
If you would like to pitch a guest for Bullseye, please CLICK HERE. You can also follow Bullseye on Twitter, YouTube, and Facebook. For more about Bullseye and to see a list of stations that carry it, please click here.
Get in touch with the show
How to listen
Stream or download episodes directly from our website, or listen via your favorite podcatcher!