Episode notes

Last month, The Sound of Young America recorded two broadcasts live at the PIT in New York City. This is the second of those programs.
Our first guest, Andres du Bouchet, is an accomplished stand-up comic whose show "Giant Tuesday Night of Amazing Inventions and Also There Is A Game" is a New York City favorite. He's also been on Conan O'Brien and Cheap Seats, and was a featured player on I Love the 30s. He offered our listeners "So You've Been Turned," a guide to acclimating to your new life as a vampire.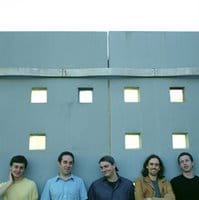 Our second guests, Elephant Larry, are a long-time Sound of Young America favorite. Their sketch parodied "8 Mile," and it's worth noting that they all wore funny sea-faring hats.
Then our relatively new friend Jonathan Coulton came through and performed three winning songs. First he played, "The Future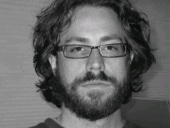 Soon," a song written from the perspective of a love-lorn 12-year-old nerd. Then he performed a winning cover of the Sir-Mix-A-Lot classic "Baby Got Back," and closed with a charming song written from the perspective of a zombie businessman. You can download each song in his performance seperately here.
We closed with an interview with Kurt Andersen. Before Kurt became a novelist and the host of Public Radio International's excellent Studio 360, he founded the seminal satirical magazine Spy. The magazine's business was mocking the media, financial and Hollywood elite in an era before such irreverence was ubiquitous.
Please share your thoughts on the show in the comments section!
Download This Week's Show
Subscribe in iTunes
Review the show in iTunes
Please Donate to Support the Show
Top Photo by Anya Garrett of SketchArtists.net
Special thanks to The Onion for promotional support
About the show
Bullseye is a celebration of the best of arts and culture in public radio form. Host Jesse Thorn sifts the wheat from the chaff to bring you in-depth interviews with the most revered and revolutionary minds in our culture.
Bullseye has been featured in Time, The New York Times, GQ and McSweeney's, which called it "the kind of show people listen to in a more perfect world." Since April 2013, the show has been distributed by NPR.
If you would like to pitch a guest for Bullseye, please CLICK HERE. You can also follow Bullseye on Twitter, YouTube, and Facebook. For more about Bullseye and to see a list of stations that carry it, please click here.
Get in touch with the show
How to listen
Stream or download episodes directly from our website, or listen via your favorite podcatcher!