Episode notes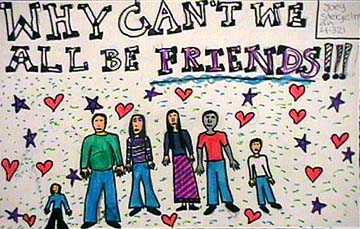 This week on The Sound of Young America, our theme is Making Friends with Black People.
Our first guest, Nick Adams, is the author of a book by that name, and a standup comedian. His book tackles inter-race relations with a comic edge. We talk about the N-word, being black at liberal arts college, and much more. Nick's about to do a book tour for his book, which will take him to LA & the Bay Area.
Our second guest, Calvin Levels, is a Tony-nominated actor, currently touring the nation with his one-man show James Baldwin: Down From the Mountaintop. Calvin talks with us about Baldwin's life, how he balanced his dual identities as a black American and a gay American, and more. Calvin will be performing in Santa Cruz March 17th as part of UCSC Arts & Lectures.
Download this week's show (MP3 Audio)

Music in this show:
Aretha Franklin's recording of Nina Simone's "To Be Young, Gifted & Black" Buy From Amazon


Science Fiction "Africa" (Unreleased) Buy Science Fiction's Album From Amazon


David Bowie "Young Americans" Buy From Amazon

About the show
Bullseye is a celebration of the best of arts and culture in public radio form. Host Jesse Thorn sifts the wheat from the chaff to bring you in-depth interviews with the most revered and revolutionary minds in our culture.
Bullseye has been featured in Time, The New York Times, GQ and McSweeney's, which called it "the kind of show people listen to in a more perfect world." Since April 2013, the show has been distributed by NPR.
If you would like to pitch a guest for Bullseye, please CLICK HERE. You can also follow Bullseye on Twitter, YouTube, and Facebook. For more about Bullseye and to see a list of stations that carry it, please click here.
Get in touch with the show
How to listen
Stream or download episodes directly from our website, or listen via your favorite podcatcher!