Episode notes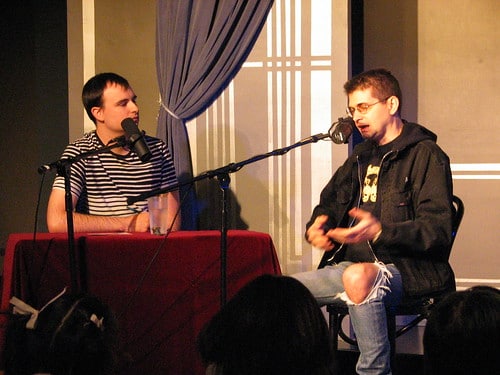 This is the second of two podcasts covering our live show at Chicago's Second City. You can find the first, which includes the comedy performances, here.
My guest on this installment is rock and roll musician and producer Steve Albini. He's the owner of Chicago's Electrical Audio, and has recorded more than a thousand bands, including Nirvana, The Stooges and many others. He's known for approaching his work humbly, as an engineer, rather than as a producer.
I talk with Steve about growing up punk rock in Montana, about his college days in Chicago, and how he developed his production skills and ideals. We also talk a bit about his strong ideas on the music industry. He's well known for a piece he wrote in Maximum Rock & Roll on the awful economics of major labels.
Here're some wonderful photos of the show online! Photos are by David Facchini.
Special thanks to Bossman Graphics for designing our poster, and to The Second City for inviting us!

Discuss this episode on the forum!
Download This Show (MP3)
Subscribe in iTunes
Review the show in iTunes
Please Donate to Support the Show
Listen to This Week's Show Online
Please allow our low-bandwidth server a little time after you click "play"
Embeddable Audio Player Code (Copy and Paste)
You might also enjoy these past interview programs:
The Second City
Live in Los Angeles with Rob Thomas & more
Live in New York with David Wain & more
About the show
Bullseye is a celebration of the best of arts and culture in public radio form. Host Jesse Thorn sifts the wheat from the chaff to bring you in-depth interviews with the most revered and revolutionary minds in our culture.
Bullseye has been featured in Time, The New York Times, GQ and McSweeney's, which called it "the kind of show people listen to in a more perfect world." Since April 2013, the show has been distributed by NPR.
If you would like to pitch a guest for Bullseye, please CLICK HERE. You can also follow Bullseye on Twitter, YouTube, and Facebook. For more about Bullseye and to see a list of stations that carry it, please click here.
Get in touch with the show
How to listen
Stream or download episodes directly from our website, or listen via your favorite podcatcher!