Episode notes
This week on The Sound of Young America, we look at the indie spirit.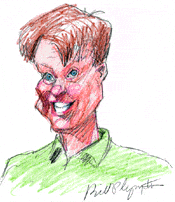 Animator Bill Plympton has always worked independently, creating both short and feature-length animated films. He draws every frame himself, and his absurd humor has netted him two Oscar nominations. He also recently created a music video for Kanye West, about which he talks in our bonus interview. His most recent release is "Plymptoons: The Complete Early Works of Bill Plympton," which includes his Oscar-nominated "Your Face."
Our second guest is Doug Martsch, from the indie rock group Built to Spill. Since coming out of the Seattle rock scene in the early 1990s, Built to Spill have been one of the most important and influential bands in the indie/alternative rock movement. Martsch is considered by many to be the heir to J Mascis' alterna-rock guitar god throne. We talk with Doug about his nearly 20-year career in rock, and why he was never able to support himself with music until he signed to a major label. The band has a new album, "You in Reverse," and is currently on tour.
Full Show Transcript
Download the Show

Bonus Interviews with Bill Plympton Here
Incidental Music by DJW
Subscribe in iTunes
Donate to the Show
About the show
Bullseye is a celebration of the best of arts and culture in public radio form. Host Jesse Thorn sifts the wheat from the chaff to bring you in-depth interviews with the most revered and revolutionary minds in our culture.
Bullseye has been featured in Time, The New York Times, GQ and McSweeney's, which called it "the kind of show people listen to in a more perfect world." Since April 2013, the show has been distributed by NPR.
If you would like to pitch a guest for Bullseye, please CLICK HERE. You can also follow Bullseye on Twitter, YouTube, and Facebook. For more about Bullseye and to see a list of stations that carry it, please click here.
How to listen
Stream or download episodes directly from our website, or listen via your favorite podcatcher!