Episode notes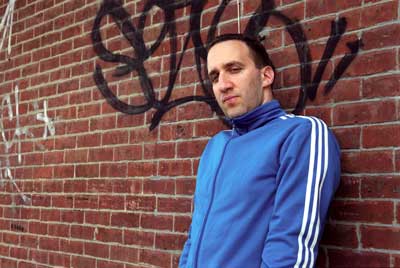 The third in our series of podcasts from our January live show at SF Sketchfest.
Danny Hoch is a multiple Obie award-winning playwright and actor, and the founder of the Hip-Hop Theater Festival. His newest show, "Takin Over," is currently in its premiere run at Berkeley Rep in Berkeley, California. The show examines the gentrification of Williamsburg, Brooklyn, using character monologues from a variety of community members. It is way, way better than that lame description makes it sound. Hoch talked about being a native New Yorker, how he feels when he's looking at the organic produce in Whole Foods, and how all the women he meets in New York seem to have come to the city from somewhere else to "find themselves."
Discuss this episode on the forum!
Download This Show (MP3)
Subscribe in iTunes
Review the show in iTunes
Please Donate to Support the Show
Listen to This Week's Show Online
Please allow our low-bandwidth server a little time after you click "play"
Embeddable Audio Player Code (Copy and Paste)
Also from our Live in San Francisco show:
Merlin Mann
Bucky Sinister

About the show
Bullseye is a celebration of the best of arts and culture in public radio form. Host Jesse Thorn sifts the wheat from the chaff to bring you in-depth interviews with the most revered and revolutionary minds in our culture.
Bullseye has been featured in Time, The New York Times, GQ and McSweeney's, which called it "the kind of show people listen to in a more perfect world." Since April 2013, the show has been distributed by NPR.
If you would like to pitch a guest for Bullseye, please CLICK HERE. You can also follow Bullseye on Twitter, YouTube, and Facebook. For more about Bullseye and to see a list of stations that carry it, please click here.
Get in touch with the show
How to listen
Stream or download episodes directly from our website, or listen via your favorite podcatcher!