Episode notes
New to Bullseye? Subscribe to our podcast in iTunes or with your favorite podcatcher to make sure you automatically get the newest episode every week.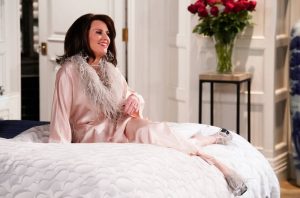 Comedy legend, Megan Mullally has been performing her whole life. Or as she likes to put it, popped out of the womb with a top hat and tap shoes on. Megan is not afraid to be ridiculous, in fact she embraces this proclivity in her over-the-top characters. You've seen her as the librarian seductress on Parks and Rec and heard her as the cat-loving eccentric Aunt Gayle on Bob's Burgers.
Megan got her big break playing perhaps her most wacky character, the martini-toting socialite Karen Walker on the groundbreaking Will and Grace. Even if you don't follow the show chances are you know Karen's voice: high-pitched, sometimes grating and always inescapable. Whether you find this annoying, hilarious, or a little of both, one thing is for sure her character is an unforgettable force. Megan won an Emmy for her performance on Will and Grace in 2006.
The Will and Grace reboot is in its last and final season so make sure to catch it on NBC.
Beyond the realm and television and film you can find Megan performing in her "punk-vaudeville" duo Nancy and Beth. You can also hear her give an intimate and comedic performance with husband Nick Offerman in The Greatest Love Story Ever Told: An Oral History.
On Bullseye Megan talks to us about how she developed her character Karen Walker, her not-so usual upbringing, and oddly enough, winning an Emmy Idol with Donald Trump.
Click here to listen to Megan Mullally's interview on YouTube.
This interview originally aired in August of 2018.
About the show
Bullseye is a celebration of the best of arts and culture in public radio form. Host Jesse Thorn sifts the wheat from the chaff to bring you in-depth interviews with the most revered and revolutionary minds in our culture.
Bullseye has been featured in Time, The New York Times, GQ and McSweeney's, which called it "the kind of show people listen to in a more perfect world." Since April 2013, the show has been distributed by NPR.
If you would like to pitch a guest for Bullseye, please CLICK HERE. You can also follow Bullseye on Twitter, YouTube, and Facebook. For more about Bullseye and to see a list of stations that carry it, please click here.
Get in touch with the show
How to listen
Stream or download episodes directly from our website, or listen via your favorite podcatcher!
Liked Megan Mullally? Listen to these next...