Episode notes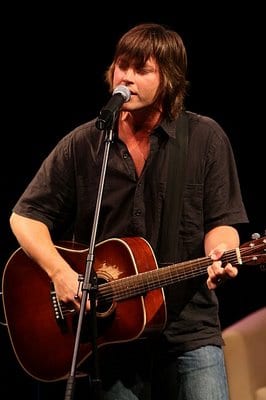 Rhett Miller, photographed by
Chris Graham
Last month we were live at the Bumbershoot Music & Arts Festival in Seattle. Our shows included three fantastic music performances — Jonathan Coulton, PWRFL Power and Rhett Miller of the Old 97s (above). In addition to the podcast version of this show, you can download individual songs from the direct links included below.

Jonathan Coulton is the internet's leading serio-comic troubador. He's blazed a trail for independent musicians everywhere, blending comedy with subtle character studies. In 2006, we interviewed Coulton on The Sound of Young America. Later that year, Coulton performed as part of our Live in New York show.
Jonathan Coulton – Skullcrusher Mountain (MP3)
Jonathan Coulton – I Feel Fantastic (MP3)
PWRFL Power is Kaz Nomura, a classical guitar virtuoso and indie pop stylist. He rocketed to the top of the Seattle Music scene over the last two years with sweet, simple songs backed by sometimes baroque guitar lines. He recently self-released a self-titled LP.
PWRFL Power – A Wonderful Ghost (MP3)
PWRFL Power – Baby Tiger (MP3)
Rhett Miller jumped out of an airplane and onto our stage at Bumbershoot. He's best known as the frontman of the country-rock band The Old 97s, and has also released music under his own name. He rocked our crowd with two Old 97s classics. (Special note: please excuse the awkward mix on Dance With Me, we had a verse worth of trouble with the house sound system).
Rhett Miller – Dance With Me (Into the Ocean) (MP3)
Rhett Miller – Timebomb (MP3)
Listen to This Week's Show Online

Please allow our low-bandwidth server a little time after you click "play"
Download This Show

Embeddable Audio Player Code (Copy and Paste)

Discuss this episode on the forum!
Subscribe in iTunes
Please Donate to Support the Show

If you enjoyed this show, try these:
Bumbershoot Comedy
Janeane Garofalo at Bumbershoot
Chip Kidd at Bumbershoot

About the show
Bullseye is a celebration of the best of arts and culture in public radio form. Host Jesse Thorn sifts the wheat from the chaff to bring you in-depth interviews with the most revered and revolutionary minds in our culture.
Bullseye has been featured in Time, The New York Times, GQ and McSweeney's, which called it "the kind of show people listen to in a more perfect world." Since April 2013, the show has been distributed by NPR.
If you would like to pitch a guest for Bullseye, please CLICK HERE. You can also follow Bullseye on Twitter, YouTube, and Facebook. For more about Bullseye and to see a list of stations that carry it, please click here.
Get in touch with the show
How to listen
Stream or download episodes directly from our website, or listen via your favorite podcatcher!