Episode notes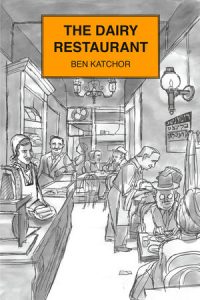 Have you ever been to a dairy restaurant?
It's a kind of Kosher restaurant that serves, well… dairy, for one. But other dishes, too: Kasha varnishkes, borscht, bean soups. But no meat. Many observant Jews avoid mixing meat and milk to keep Kosher, so a dairy restaurant serves a really useful purpose.
But if you're looking for a history on these places, what kind of food they served… you won't really find much on the web. Instead you'll see maybe a few listings for restaurants in your area, some travel guides. But no Wikipedia page, no dictionary definition. It's almost like they… aren't really a thing?
But.. they are. Or were, at least. There used to be a bunch of them in New York City, among other places. As recently as the late 20th century. But cities change, people change. Restaurants come, restaurants go. Ben Katchor, the MacArthur Grant winning cartoonist behind the great strip Julius Knipl: Real Estate Photographer, remembers them. He misses them. And he talks about those places in his newest book: The Dairy Restaurant. It's an illustrated history of dairy restaurants, starting literally in the Garden of Eden, right up until modern times: what dairy restaurants served, what role they played in the larger community, what they mean to the city he grew up in: New York.
The Dairy Restaurant is available to purchase now.
About the show
Bullseye is a celebration of the best of arts and culture in public radio form. Host Jesse Thorn sifts the wheat from the chaff to bring you in-depth interviews with the most revered and revolutionary minds in our culture.
Bullseye has been featured in Time, The New York Times, GQ and McSweeney's, which called it "the kind of show people listen to in a more perfect world." Since April 2013, the show has been distributed by NPR.
If you would like to pitch a guest for Bullseye, please CLICK HERE. You can also follow Bullseye on Twitter, YouTube, and Facebook. For more about Bullseye and to see a list of stations that carry it, please click here.
How to listen
Stream or download episodes directly from our website, or listen via your favorite podcatcher!
Liked Cartoonist Ben Katchor? Listen to these next...