Episode notes
New to Bullseye? Subscribe to our podcast in Apple Podcasts or with your favorite podcatcher to make sure you automatically get the newest episode every week.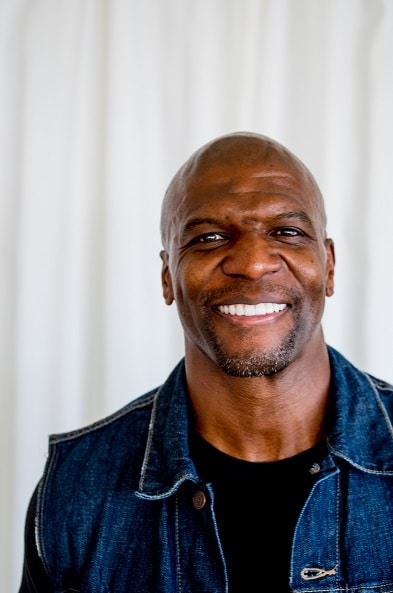 Photo: Jesse Thorn
Terry Crews on addiction, physical fitness, and why he works so much
[R] Terry Crews is the kind of performer that has his hand in all different facets of the entertainment industry. He starred alongside Ice Cube in the
Friday After Next
, played Chris Rock's Dad on
Everybody Hates Chris
, and he played the president in
Idiocracy
. Now he's Andy Samberg's co-star on
Brooklyn Nine Nine
as Sergeant Jeffords. He was also the screaming muscle man in all those Old Spice ads. But, before all that, Terry was a football player from Flint, Michigan – like not just high school and college – he played on four NFL teams over 5 years. He was picked by the LA Rams in the 11th round of the 1991 NFL Draft, and in 1996 he played his last season ever for the Eagles.
Terry and Jesse discuss football, and the culture that surrounds the player in training and on the field. They discuss what life was like for Terry after leaving the NFL, and how that time shaped his relationship to fitness. They also discuss his childhood, his relationship to success, and why he works so much.
Listen to Terry Crews' interview on YouTube!
This segment originally aired in May of 2017.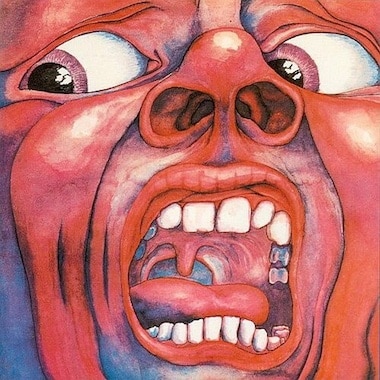 Canonball with Marc Weingarten and Tyson Cornell: King Crimson's 'In The Court of the Crimson King'
Every so often we like to take a closer look at albums that should be considered classics, to find out what makes them great. It's Canonball.
No one says The Rolling Stones don't belong in the pop music canon. But what about Genesis? Or Yes? What about the prog rockers? The music wasn't down and dirty, and the songs weren't pop-radio short. Sometimes they were downright long. But prog has always had its loyalists.
This week Marc Weingarten and Tyson Cornell, the editors of the prog rock anthology Yes Is The Answer: (And Other Prog Rock Tales), explain why the King Crimson album In The Court of the Crimson King is a classic, and how it laid the foundation for a whole genre. They'll explain how these classically trained musicians mixed flutes, horns, blues riffs, and synthesizers to create this face melting album.
Listen to this segment on YouTube!
This segment originally aired in June of 2014.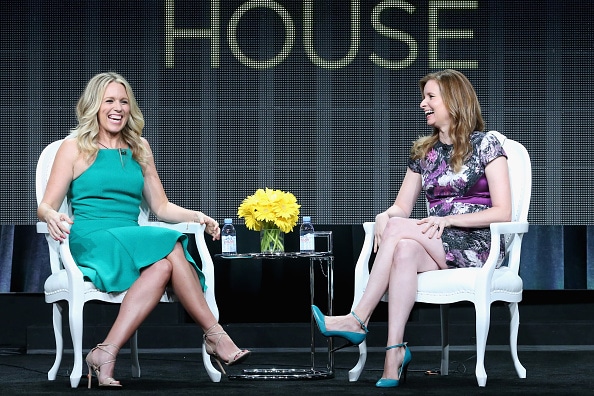 Photo: Frederick M. Brown/Getty Images Entertainment/Getty Images
Jessica St. Clair and Lennon Parham of 'Playing House': Improv in the writers' room, and showing realistic friendships on television.
Jessica St. Clair and Lennon Parham play best friends on TV, and if their on-screen chemistry seems real, it is. They met doing improv comedy at the Upright Citizens Brigade Theatre, and have been writing partners ever since. They co-created and star in
Playing House
, a sitcom about female friendship that's more reminiscent of Lucy and Ethel than it is Carrie Bradshaw's gang.
Playing House follows Emma and Maggie, two women who have been friends forever. Maggie stayed in their hometown, got married, and is expecting a baby. Emma has been professionally ambitious, closing business deals in Shanghai, and hasn't been back to visit for what must be years.
Parham and St. Clair join us to talk about the marathon improv sessions that produce the show's jokes, and their real-life friendship.
You can watch *every episode* of Playing House on USA's website.
Listen to this interview on YouTube!
This interview originally aired April of 2014.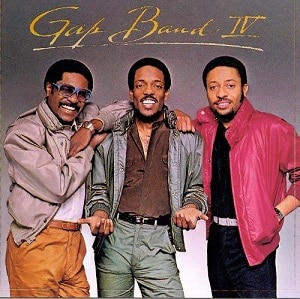 The Outshot: The Gap Band
Finally, for this week's Outshot: The Gap Band. Jesse tells us about a chart-topping album with a lot of funk and soul,
The Gap Band IV
.
Listen to Jesse's Outshot on YouTube!
This segment originally aired in May of 2017.
Guests
Terry Crews
Jessica St. Clair
Lennon Parham
About the show
Bullseye is a celebration of the best of arts and culture in public radio form. Host Jesse Thorn sifts the wheat from the chaff to bring you in-depth interviews with the most revered and revolutionary minds in our culture.
Bullseye has been featured in Time, The New York Times, GQ and McSweeney's, which called it "the kind of show people listen to in a more perfect world." Since April 2013, the show has been distributed by NPR.
If you would like to pitch a guest for Bullseye, please CLICK HERE. You can also follow Bullseye on Twitter, YouTube, and Facebook. For more about Bullseye and to see a list of stations that carry it, please click here.
Get in touch with the show
How to listen
Stream or download episodes directly from our website, or listen via your favorite podcatcher!