Episode notes
New to Bullseye? Subscribe to our podcast in iTunes or with your favorite podcatcher to make sure you automatically get the newest episode every week.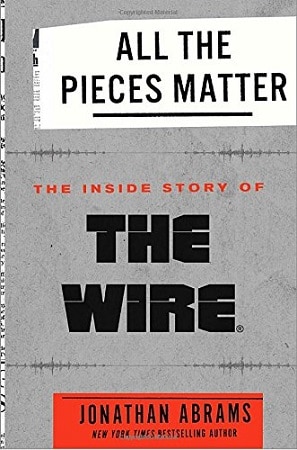 Let's celebrate one of the best shows ever: The Wire!
This week, we're doing something a little different on Bullseye. It's been 10 years since HBO's brilliant crime drama "The Wire" ended its run. We're dedicating the entire episode to the groundbreaking show. "The Wire" wasn't just another cop show — it was an investigation of contemporary America that uses the drug trade as a lens to get at even larger issues. "The Wire" is just kind of setup like a novel — its got its own idiom, its own pacing. And even ten years later the show is still incredibly relevant and riveting to watch.
We'll revisit an interview from 2008, which features two greats from the ensemble cast of "The Wire." Wendell Pierce (Detective Bunk Moreland) and Andre Royo (Bubbles) talked with Jesse about their time as actors on "The Wire." They discuss what it was like to authentically portray life in poor Baltimore neighborhoods, and how the show helped them launch their careers in an industry where the roles they often auditioned for were so polarizing.
Plus, we'll hear from author Jonathan Abrams. Jonathan is an award-winning writer for The Bleacher Report and he's written for Grantland, The LA Times, The New York Times and more. He became obsessed with HBO's "The Wire" when a friend kept bugging him to watch it. He finally gave it a shot during the show's 4th season that aired in 2006.
He just wrote "All the Piece Matter: The Inside Story of The Wire." It's an oral history of the show as told by the actors, writers, directors, and other people involved in its creation. He'll tell us about the painstaking efforts the show creator, David Simon; took to make sure the show got Baltimore right.
You can check out and share Wendell Pierce and Andre Royo's interview from the archives on YouTube here. And listen to Jonathan Abrams segment here!
This episode of Bullseye will include some light spoilers about "The Wire." If you haven't seen it by now… what are you waiting for! You've been warned.
Guests
Andre Royo
Wendell Pierce
Jonathan Abrams
About the show
Bullseye is a celebration of the best of arts and culture in public radio form. Host Jesse Thorn sifts the wheat from the chaff to bring you in-depth interviews with the most revered and revolutionary minds in our culture.
Bullseye has been featured in Time, The New York Times, GQ and McSweeney's, which called it "the kind of show people listen to in a more perfect world." Since April 2013, the show has been distributed by NPR.
If you would like to pitch a guest for Bullseye, please CLICK HERE. You can also follow Bullseye on Twitter, YouTube, and Facebook. For more about Bullseye and to see a list of stations that carry it, please click here.
Get in touch with the show
How to listen
Stream or download episodes directly from our website, or listen via your favorite podcatcher!