Episode notes
New to Bullseye? Subscribe to our podcast in iTunes or with your favorite podcatcher to make sure you automatically get the newest episode every week.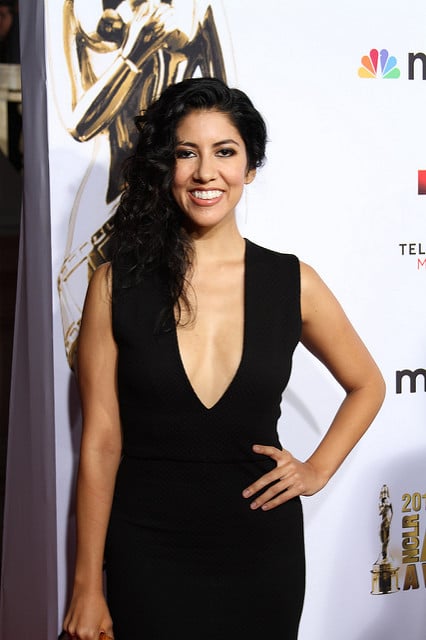 Photo by Richard Sandoval/Flickr
Stephanie Beatriz on Brooklyn Nine-Nine and Taking The Lead in The Light of the Moon
Stephanie Beatriz stars in
Brooklyn Nine-Nine
as Detective Rosa Diaz – easily the toughest cop in the precinct – she's brave, serious, and rides a motorcycle. The sixth and newest season just premiered at its new home: NBC!
Stephanie also starred in the 2017 movie The Light of The Moon. She plays Bonnie, a young woman living in Brooklyn with her boyfriend. Towards the beginning of the film, she goes through a vicious sexual assault, and the movie tells the story of the aftermath of that event – its effect on her work life, relationship, and even mundane daily decisions – like whether or not she wears headphones when she's walking off the subway. It's brutal to watch, but it's also nuanced, realistic, and really touching.
We'll talk about all of that and also how she and her Dad cemented their father-daughter bond by watching Seinfeld:
A quick warning – the second half of this interview contains some honest and frank talk about sexual assault and the trauma of dealing with it.
This interview originally aired in 2017.
About the show
Bullseye is a celebration of the best of arts and culture in public radio form. Host Jesse Thorn sifts the wheat from the chaff to bring you in-depth interviews with the most revered and revolutionary minds in our culture.
Bullseye has been featured in Time, The New York Times, GQ and McSweeney's, which called it "the kind of show people listen to in a more perfect world." Since April 2013, the show has been distributed by NPR.
If you would like to pitch a guest for Bullseye, please CLICK HERE. You can also follow Bullseye on Twitter, YouTube, and Facebook. For more about Bullseye and to see a list of stations that carry it, please click here.
Get in touch with the show
How to listen
Stream or download episodes directly from our website, or listen via your favorite podcatcher!