Episode notes
New to Bullseye? Subscribe to our podcast in iTunes or with your favorite podcatcher to make sure you automatically get the newest episode every week.
And if you're looking for a particular segment to listen to or share, check us out on Soundcloud.
Thanks to everyone who came out to our World Tour of Several American Cities! Here's our show recorded in front of a live audience at NPR Studio 1 in Washington D.C.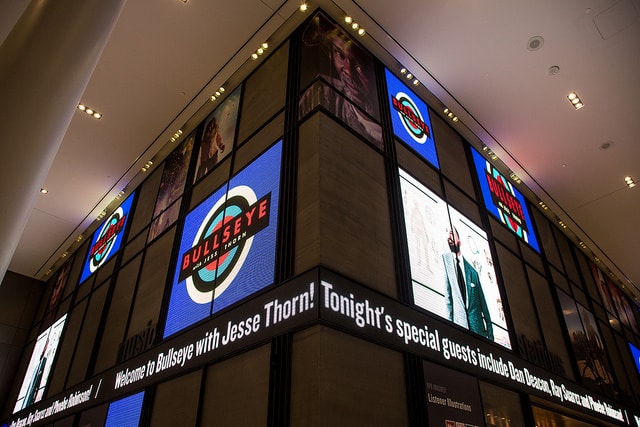 For more photos – including action shots of Dan Deacon's set – click here!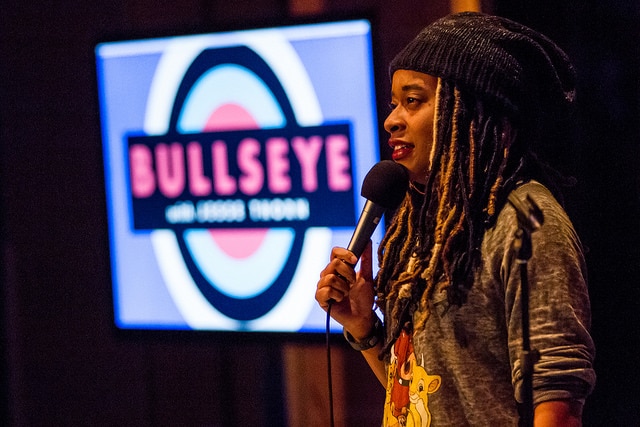 Photo by Kenneth Lecky
Comedy: Phoebe Robinson on Break Ups, Cat Calling and Bi-Racial Mathematics
New York comedian and writer Phoebe Robinson opened our DC show.
Her podcast, 2 Dope Queens, will launch soon with WNYC. Robinson co-hosts the show with The Daily Show's Jessica Williams.
You can find more from Phoebe, including live dates at her website, www.phoeberobinson.tumblr.com.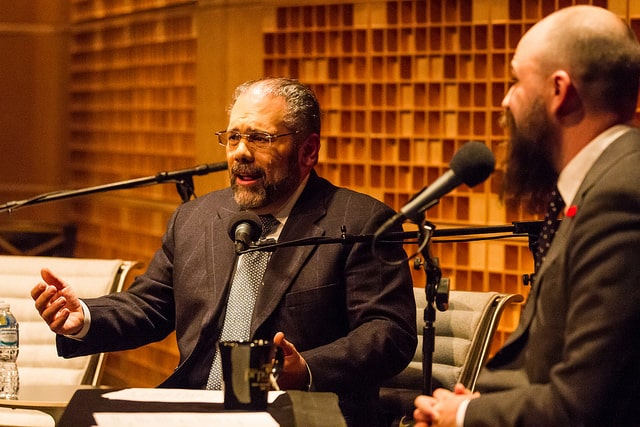 Photo by Kenneth Lecky
Ray Suarez on Being the Face of Diversity and Life as a Role Model
Ray Suarez is a broadcast journalist and writer with a thirty-plus year career in journalism. He currently hosts Inside Story on Al Jazeera America. Previously he was a senior correspondent on the PBS NewsHour and before that was the host of Talk of the Nation on NPR.
He has explored the cultural history of the United States in three books which include Latino Americans: The 500 Year Legacy That Shaped a Nation and The Holy Vote: The Politics of Faith in America.
Ray Suarez shared the stage with Jesse to talk about growing up in Brooklyn, frequently being the first non-white hire and how it feels to be an unintentional role model.
Inside Story airs weekdays at 6:30pm ET/3:30pm PT on Al Jazeera America.
If you liked this, share it! Click here for a streaming, embeddable version of this interview.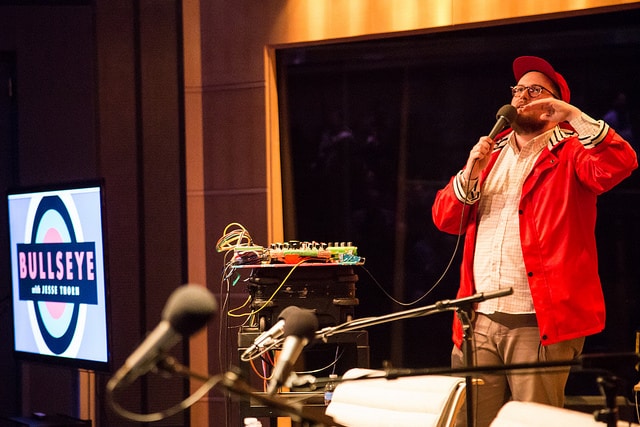 Photo by Kenneth Lecky
Dan Deacon on His Love of Aerosmith, Theatrics and Touring with Miley Cyrus
Dan Deacon is a longtime Bullseye favorite — an electronic musician who's earned a large following for his fun and exciting live shows. He's become known for his own unique brand of audience participation during his sets.
Deacon performed live in front of our studio audience and also talked about his early affinity for Aerosmith, incorporating theatrics into his performance and what it's like to tour with Miley Cyrus.
Dan Deacon's latest album is Gliss Riffer.
If you liked this, share it! Click here for a streaming, embeddable version of this segment.
Guests
Ray Suarez
Dan Deacon
Phoebe Robinson
About the show
Bullseye is a celebration of the best of arts and culture in public radio form. Host Jesse Thorn sifts the wheat from the chaff to bring you in-depth interviews with the most revered and revolutionary minds in our culture.
Bullseye has been featured in Time, The New York Times, GQ and McSweeney's, which called it "the kind of show people listen to in a more perfect world." Since April 2013, the show has been distributed by NPR.
If you would like to pitch a guest for Bullseye, please CLICK HERE. You can also follow Bullseye on Twitter, YouTube, and Facebook. For more about Bullseye and to see a list of stations that carry it, please click here.
Get in touch with the show
How to listen
Stream or download episodes directly from our website, or listen via your favorite podcatcher!