Episode notes
New to Bullseye? Subscribe to our podcast in iTunes or with your favorite podcatcher to make sure you automatically get the newest episode every week.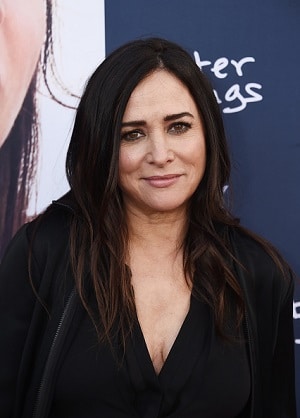 Photo: Amanda Edwards/Getty Images
Pamela Adlon on Acting in Her Teens, Parenting, and Rebuilding Her TV Show "Better Things"
Pamela Adlon is the creator and star of FX's
"Better Things."
On the series, Pamela plays Sam, a single mom and working actor living in Los Angeles. Sam isn't starving, but she isn't super famous either. She dates, but it doesn't consume her life. It's an honest, funny show that talks about parenting in a very real way.
Pamela's acting career started in her early teens with a juicy role as a Pink Lady in the sequel to the hit musical "Grease," but in large part, she's established herself in the industry as a voice actor. She's got dozens of credits in animated TV shows like "Rugrats" and "Bobby's World." She was the voice of Bobby Hill on the hit series "King Of the Hill" – one of her best ever roles.
In the last few years, Pamela has been appearing in front of the camera more. She had roles on "Californication" and "Louie."
She also wrote the first two seasons of "Better Things" with Louis C.K. As you probably heard, late last year, Louis C.K. was accused of sexual misconduct by several women- allegations he eventually admitted were true. C.K. has since been removed from "Better Things." Before Pamela came on our show, she told us she didn't want to say anything else about Louis CK, but she did get candid with us about what it was like to have to carry on with the show after his departure.
"Better Things" wrapped up its second season late last year. Look for the third season to premiere later in 2018.
Click here to listen to Pamela Adlon's interview on YouTube.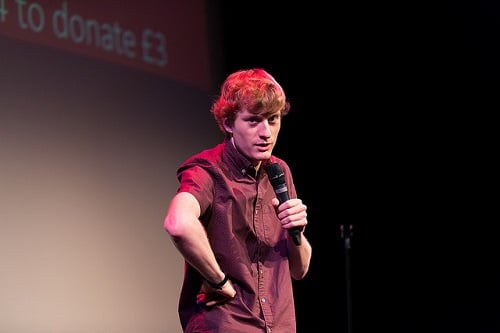 Photo: David P Scott/Flickr
Comedian James Acaster on Being in a Band and How His Near Death Experience Led Him to Standup
James Acaster is a standup comic from London. He's appeared on a bunch of TV shows over there – "Mock the Week" and "Sounds Random" to name a few. Over here in the States, he just performed on "The Late, Late Show with James Corden."
James's comic style is observational, kind of absurd, but also really prolific, too. A couple months back he put out his first-ever Netflix Special. It's called "James Acaster: Repertoire" and it's four, hour-long live specials and it's really, really funny.
Click here to listen to James Acaster's interview on YouTube.
Guests
Pamela Adlon
James Acaster
About the show
Bullseye is a celebration of the best of arts and culture in public radio form. Host Jesse Thorn sifts the wheat from the chaff to bring you in-depth interviews with the most revered and revolutionary minds in our culture.
Bullseye has been featured in Time, The New York Times, GQ and McSweeney's, which called it "the kind of show people listen to in a more perfect world." Since April 2013, the show has been distributed by NPR.
If you would like to pitch a guest for Bullseye, please CLICK HERE. You can also follow Bullseye on Twitter, YouTube, and Facebook. For more about Bullseye and to see a list of stations that carry it, please click here.
Get in touch with the show
How to listen
Stream or download episodes directly from our website, or listen via your favorite podcatcher!