Episode notes
New to Bullseye? Subscribe to our podcast in iTunes or with your favorite podcatcher to make sure you automatically get the newest episode every week.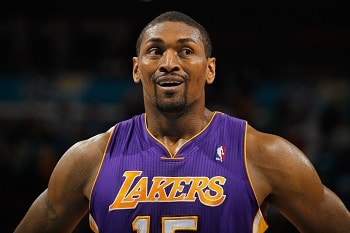 Photo: Chris Graythen / Getty Images
Metta World Peace on his new book 'No Malice: My Life in Basketball'
Throughout his 18 year career in the NBA Metta World Peace played for 6 teams, was an All Star and became an NBA champion in 2010 as a member of the Los Angeles Lakers. He was drafted in the first round in 1999 by the Chicago Bulls. As a player, he was always an elite defender. But he had a reputation for losing his cool. When it worked, it made him passionate, tough and nearly impossible to get past. But when didn't, things went south easily.
In 2004, at a game in Detroit, a hard foul between players escalated into an all out brawl between players and fans. The incident, now infamous, was called the Malice at the Palace. He's written a memoir about his life: "No Malice: My Life in Basketball." In it, he recounts his triumphs and shortcomings, including, of course, that incident in Detroit.
He's one of the most fascinating people in basketball. This week, we cover a lot of ground with him – the highs and lows of his career – the championships, the fights. He'll also talk about what it was like to grow up in Queensbridge, the biggest public housing complex in the country. And, of course, if you're a fan of his you've probably heard the story about the first time he met Kobe Bryant in a shower – but did it really go down the way people say? The answer might surprise you.
Check out this interview on YouTube!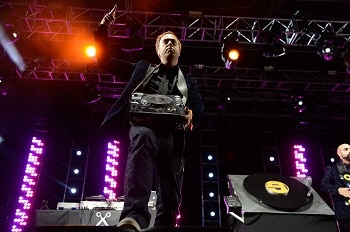 Photo: Frazer Harrison/Getty Images
The Song That Changed My Life, with Cut Chemist: Park Bench People by Freestyle Fellowship
Lucas McFadden is a DJ and producer, best known for co-founding the iconic underground hip-hop group Jurassic 5. If you ever catch him spinning records on a turntable he does so under the name Cut Chemist.
He'll tell us about "Park Bench People" by Freestyle Fellowship. The Fellowship was a boundary-defying underground crew fronted by MC's Myka 9 and Aceyalone. Find out how the song changed his idea of what hip-hop could be.
Cut Chemist's first record in 12 years drop earlier this year, it's called "Die Cut." The album features collaborations with musicians like Chali 2na, Mr. Lif, Biz Markie, and his hero – Myka 9.
Check out this segment on YouTube!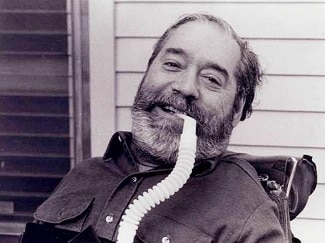 Photo: Courtesy of the Ed Roberts Campus
The Outshot: The Life of Ed Roberts
This week, Jesse pays tribute to Ed Roberts, a pioneering leader in the disability rights movement. In the late 80's, Jesse's father worked for Ed, and they were best friends. Jesse reflects on his dad, and his dad's friend, and those memories from his childhood.
Guests
Metta World Peace
Cut Chemist
About the show
Bullseye is a celebration of the best of arts and culture in public radio form. Host Jesse Thorn sifts the wheat from the chaff to bring you in-depth interviews with the most revered and revolutionary minds in our culture.
Bullseye has been featured in Time, The New York Times, GQ and McSweeney's, which called it "the kind of show people listen to in a more perfect world." Since April 2013, the show has been distributed by NPR.
If you would like to pitch a guest for Bullseye, please CLICK HERE. You can also follow Bullseye on Twitter, YouTube, and Facebook. For more about Bullseye and to see a list of stations that carry it, please click here.
Get in touch with the show
How to listen
Stream or download episodes directly from our website, or listen via your favorite podcatcher!