Episode notes
New to Bullseye? Subscribe to our podcast in iTunes or with your favorite podcatcher to make sure you automatically get the newest episode every week.
And if you're looking for a particular segment to listen to or share, check us out on Soundcloud.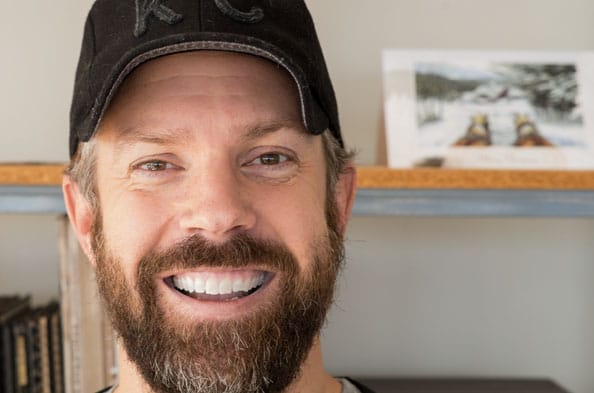 Photo by Jesse Thorn
Jason Sudeikis on Mentorship, Fame and his Blue Man Group Aspirations
Jason Sudeikis is an actor, comedian and screenwriter, probably best known for time spent as a writer and performer on Saturday Night Live.
His comedic skills were honed as a founding member of Second City Las Vegas and have been enjoyed by audiences on television shows including 30 Rock and Eastbound & Down as well as the films Horrible Bosses and We're the Millers.
His recent work has taken a more dramatic turn, and includes his role in the film Race, which tells the story of track and field legend Jesse Owens' pursuit of the gold in the 1936 Berlin Olympic Games. Sudeikis plays Owens' coach, Larry Snyder, who mentored and coached him through his time at Ohio State University and into the Olympics.
Sudeikis joined Jesse to talk about his aspirations to join The Blue Man Group, the role that his own mentors have played in his life and what it's like to have his personal life serve as fodder for tabloid media.
If you liked this, share it! Click here for a streaming, embeddable version of this interview.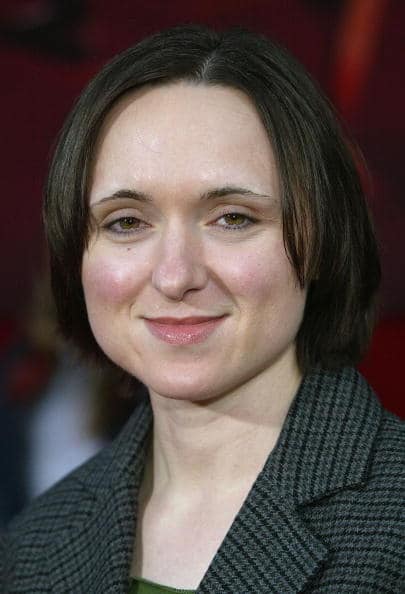 Photo by Frederick M. Brown/Getty Images
"I Wish I'd Made That": Sarah Vowell on her Love of Randy Newman and "The World Isn't Fair"
Artists — the people that make stuff — are always influenced by the work of others. And sometimes, something an artist sees is so good, so perfect that they wish they had made it themselves.
This happens so often to the people we talk to, that we made a segment about it. It's called "I Wish I'd Made That". This week, we talk to author and social commentator Sarah Vowell who joins us to talk about the Randy Newman song, "The World Isn't Fair".
You probably don't need us to tell you who Sarah Vowell is, if you're listening to an NPR podcast, but she's a frequent contributor to This American Life, and is the author of multiple bestselling books including Assassination Vacation and Unfamiliar Fishes.
Vowell's latest book is about the Marquis de Lafayette, a Frenchman who became a sort of adopted son to George Washington and fought in the American Revolutionary War. It's called Lafayette in the Somewhat United States.
You can find her other appearances on our show here and here.
If you liked this, share it! Click here for a streaming, embeddable version of this segment.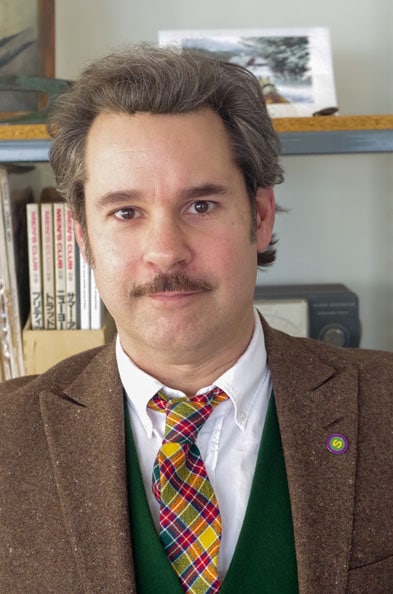 Photo by Jesse Thorn
Paul F. Tompkins Talks Success, Podcasting and Improvising with Puppets
Paul F. Tompkins has a certain kind of fame. If you're a comedy fan, he is known and beloved for his appearances on comedy podcasts (including his own) or from his live stand up and improv comedy. But to the world at large, he's probably best known for his work as a writer and performer on the HBO cult comedy show Mr. Show with Bob and David.
In recent years, he's started his own improv podcast, Spontaneanation with Paul F. Tompkins, and also currently hosts the show No, You Shut Up! on the Fusion network.
No, You Shut Up! is a talk show in the vein of "Meet the Press", if its talking heads were actually puppets from Henson Alternative. The show airs Thursday nights at 10pm on Fusion. Episodes are also available on YouTube.
Tompkins joined Jesse to talk about what it feels like to become more personal in his stand-up, the role of podcasting in his success and what it's like to improvise with puppets.
If you liked this, share it! Click here for a streaming, embeddable version of this segment.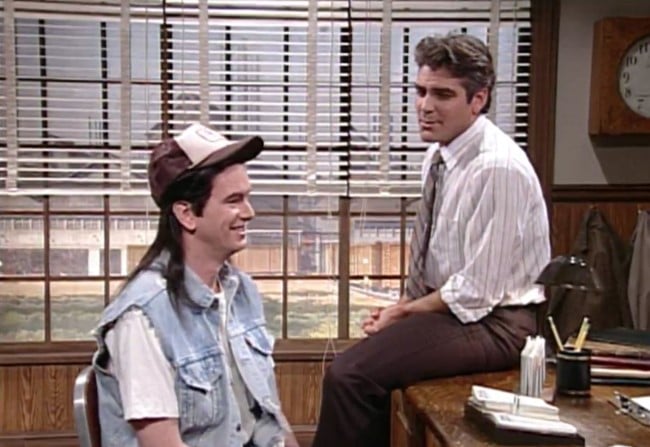 The Outshot: SNL's Tales of Fraud and Malfeasance in Railroad Hiring Practices
Can a Saturday Night Live sketch change the course of your life?
If you liked this, share it! Click here for a streaming, embeddable version of this segment.
Guests
Jason Sudeikis
Paul F. Tompkins
Sarah Vowell
About the show
Bullseye is a celebration of the best of arts and culture in public radio form. Host Jesse Thorn sifts the wheat from the chaff to bring you in-depth interviews with the most revered and revolutionary minds in our culture.
Bullseye has been featured in Time, The New York Times, GQ and McSweeney's, which called it "the kind of show people listen to in a more perfect world." Since April 2013, the show has been distributed by NPR.
If you would like to pitch a guest for Bullseye, please CLICK HERE. You can also follow Bullseye on Twitter, YouTube, and Facebook. For more about Bullseye and to see a list of stations that carry it, please click here.
Get in touch with the show
How to listen
Stream or download episodes directly from our website, or listen via your favorite podcatcher!