Episode notes
New to Bullseye? Subscribe to our podcast in iTunes or with your favorite podcatcher to make sure you automatically get the newest episode every week.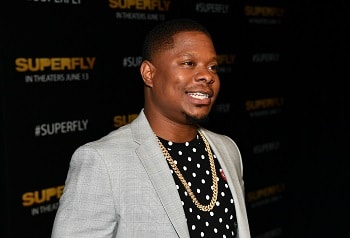 Photo: Paras Griffin / Getty Images
Jason Mitchell on his new film 'Tyrel' and portraying Eazy-E in Straight Outta Compton
First up: Jason Mitchell! We can't wait to share this conversation with you – he's an up and coming actor with a lot of great stories to tell. He's magnetic, and as you'll hear in our interview he's extremely charming.
Recently, he's been in a lot of acclaimed movies and television shows. In Netflix's "Mudbound" he played a World War II veteran who returns to rural Mississippi. Or perhaps you've seen him on Lena Waithe's Showtime series "The Chi," he starred as Brandon. He's probably best known for his breakthrough role: 2015's "Straight Outta Compton." He sort of stole every scene he was in as Eazy-E.
His latest film "Tyrel," is out now. In it, Jason stars as Tyler: a young guy who lives with his girlfriend in New York. Deciding he wants to get out of the city for the while, he takes a trip with a handful of guys his age. He rides out to Catskills for a long weekend in a cabin.
The plot really thickens when you learn that the guys in the cabin are all friends of friends. He doesn't really know any of them. And the other thing: Tyler's black, while everyone else on the trip is white. It's an awkward and weirdly plausible look at race and masculinity and how people react when they have to deal with those topics head on.
Jason will talk about how this film helped create a friendship with co-star Michael Cera. He'll also discuss his road to stardom: he didn't get his first role until he was 24. And it wasn't an easy road – he was raised in a tough part of New Orleans, his home was devastated by Katrina, and he had run-ins with the law when he was younger. Plus, as a former professional oyster shucker he'll give us some tips for preparing the culinary delicacy.
Listen to this segment on YouTube!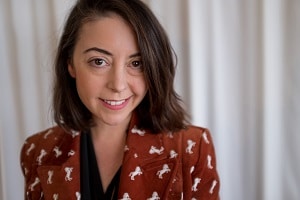 Photo: Jesse Thorn
Karina Longworth on her new book: 'Seduction
Sex, Lies, and Stardom in Howard Hughes's Hollywood'
The Golden Age of Hollywood was a fascinating time – this was the era of James Dean, Orson Welles and "Gone With The Wind." Look up the topic and you'll find hundreds of books, movies, TV shows, and even bus tours. Sometimes those depictions will get swept up in the glitz and glamor. Other times it's quite the opposite: dark, morose, and gritty.
Karina Longworth is writer and host of the hit podcast "You Must Remember This," which looks at some of the secrets of Old Hollywood. She's an expert on the history of Hollywood's Golden Age and she's written five books on the topic to prove it. Her latest book: "Seduction
Sex, Lies, and Stardom in Howard Hughes's Hollywood," explores Hughes' time as a producer and director.
It's as sordid and cutthroat as you might imagine. The book talks about Hughes' role in Hollywood back then. The dozens of movies he financed, the few he wrote and directed. The weird, abusive system he created to recruit and develop young actresses – and the way he manipulated them. Longworth's book is beautifully written, and meticulously researched. She talks about the impact and damage done by Hughes and the people whose lives he affected forever.
Listen to this segment on YouTube!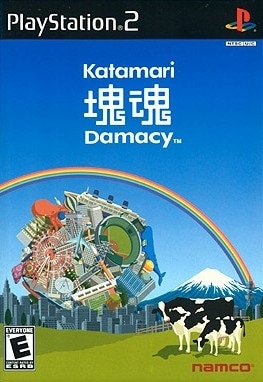 Photo: Namco
The Outshot: Katamari Damacy
Finally for The Outshot, Jesse describes the whimsical world of Katamari Damacy – a video game that will fill you with wonder. A remastered version of the game has just been released. It's the perfect time to reflect on the simple joys of this funky little game.
Guests
Jason Mitchell
Karina Longworth
About the show
Bullseye is a celebration of the best of arts and culture in public radio form. Host Jesse Thorn sifts the wheat from the chaff to bring you in-depth interviews with the most revered and revolutionary minds in our culture.
Bullseye has been featured in Time, The New York Times, GQ and McSweeney's, which called it "the kind of show people listen to in a more perfect world." Since April 2013, the show has been distributed by NPR.
If you would like to pitch a guest for Bullseye, please CLICK HERE. You can also follow Bullseye on Twitter, YouTube, and Facebook. For more about Bullseye and to see a list of stations that carry it, please click here.
Get in touch with the show
How to listen
Stream or download episodes directly from our website, or listen via your favorite podcatcher!