Episode notes
New to Bullseye? Subscribe to our podcast in iTunes or with your favorite podcatcher to make sure you automatically get the newest episode every week.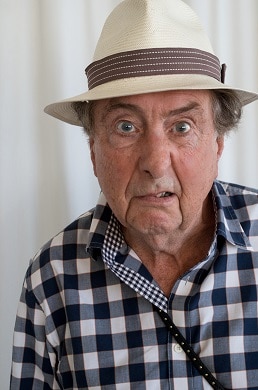 Photo: Jesse Thorn
Eric Idle on His Memoir and Monty Python's 50th Anniversary
Eric Idle is a comedy pioneer and a real-life Monty Python! He co-created and starred in the TV show, along with hit movies like "The Meaning of Life," "The Holy Grail," and "Life of Brian." He also co-founded The Rutles, the Beatles parody band, and wrote the smash hit Broadway musical "Spamalot."
Eric's entered a reflective moment in his career and so, he's written a memoir. It's called "Always Look on the Bright Side of Life: A Sortabiography" and it's in bookstores now, go check it out!
In our conversation, Eric shares some hilarious anecdotes about the comics and rock stars he worked with, insight into the Python creative process, and how he looks back on Monty Python's legacy today.
Click here to listen to Eric Idle's interview on YouTube.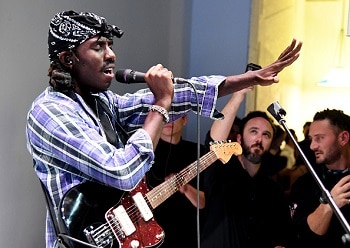 Photo:Nicholas Hunt/Getty Images
Blood Orange's Dev Hynes on Producing for Hit Makers and His Teenage Years as a Metal Head
Easily one of the most interesting musicians around today, Devonté "Dev" Hynes is a singer, multi-instrumentalist, and producer. He's worked on hits for folks like Carly Rae Jepsen, A$AP Rocky, Kylie Minogue, and the Chemical Brothers just to name a handful. He also produced the breakout Solange Knowles hit "True."
Dev's also been making music of his own for over ten years now. First under the name Lightspeed Champion and then, starting in 2011 as Blood Orange. His sound isn't easy to define. It changes from album to album, even from song to song. You'll hear a little bit of Prince, maybe Sade every now and then. It's music made to evoke feelings of nostalgia, melancholy, love.
Blood Orange's new album Negro Swan is out now.
Also, ever wonder what's it like when Diddy has your number and returns your calls? Dev has the answer and he tells Jesse!
Click here to listen to Blood Orange's interview on YouTube.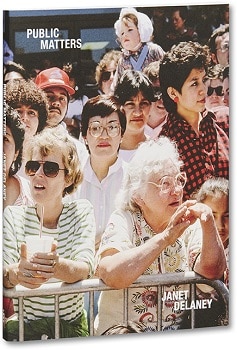 Photo: Courtesy of MACK Books
The Outshot: Janet Delaney's Public Matters
In search of good weather and cheap rent, photographer Janet Delaney moved to the Mission District in San Francisco in the '80s. It's the stage where she shot the images in her new book "Public Matters." To Delaney, to live comfortably in a city is to feel at home with strangers and you can feel that in her pictures.
About the show
Bullseye is a celebration of the best of arts and culture in public radio form. Host Jesse Thorn sifts the wheat from the chaff to bring you in-depth interviews with the most revered and revolutionary minds in our culture.
Bullseye has been featured in Time, The New York Times, GQ and McSweeney's, which called it "the kind of show people listen to in a more perfect world." Since April 2013, the show has been distributed by NPR.
If you would like to pitch a guest for Bullseye, please CLICK HERE. You can also follow Bullseye on Twitter, YouTube, and Facebook. For more about Bullseye and to see a list of stations that carry it, please click here.
Get in touch with the show
How to listen
Stream or download episodes directly from our website, or listen via your favorite podcatcher!