Episode notes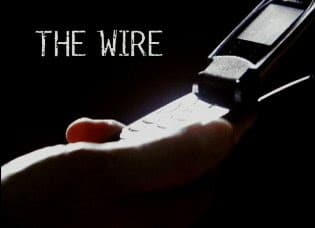 Jason Kottke Shares the Best of the Web
Jason Kottke blogs at Kottke.org and every once in awhile he shows up on Bullseye to tell us about the best stuff on the web. This week Kottke points us toward some of his all-time favorites: The Wire Bible and Survival Tips for the Middle Ages.
(Embed or share Jason Kottke's web picks)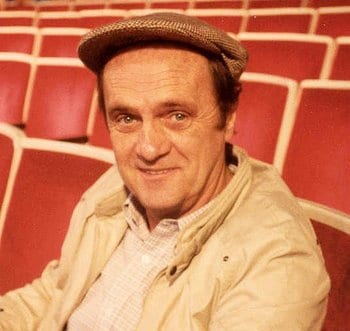 Bob Newhart on Swapping Accounting for Comedy, The Phone Bit and More
Bob Newhart is an actor, stand-up and legend of American comedy. A pioneer comedian in every sense, Bob began his comedy career when he and a friend improvised over-the-phone comedy routines to kill boredom at work, and subsequently sold the bits to radio stations. The "phone sketch" would be a schtick that would last throughout Newhart's career, and featured quite prominently in the release of his 1960 comedy album debut Button Down Mind of Bob Newhart. The album was an unprecedented hit as a comedy recording, outselling Elvis Presley and winning the Grammy for Album of the Year. Its success eventually led Newhart to television, first with a variety sketch show in the early '60s, and then a pair of sitcoms: The Bob Newhart Show in the 1970s, and Newhart in the early '80s.
Bob joins us to reflect on his comedy career, from how he honed his craft as a solo straightman — leaving the wild responses on the other end of his phone conversations entirely in the minds of the audience — to what keeps him going today when he's accomplished so much as a performer. Newhart still performs dozens of nights a year as a stand-up, while acting in both film and television. You can find him at BobNewhart.com. This interview originally aired April 3, 2012.
(Embed or share this interview with Bob Newhart)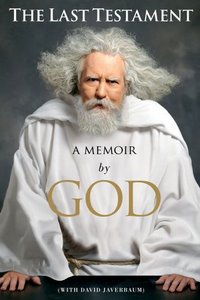 God Gets Real on Sports
Has the Almighty ever swayed athletic outcomes? Does He even care for sports at all? Get the straight truth from The Man Himself. The answer may surprise you.
This excerpt is from The Last Testament: A Memoir By God, with David Javerbaum.
David Javerbaum is an Emmy-winning comedy writer and former executive producer of The Daily Show. You can see more of his work with God on Twitter @TheTweetofGod.
Our voice of God is provided by comedian and Funny or Die writer Seth Morris, who is also on Twitter @SethISMorris. This segment originally aired April 3, 2012.
(Embed or share God on Sports)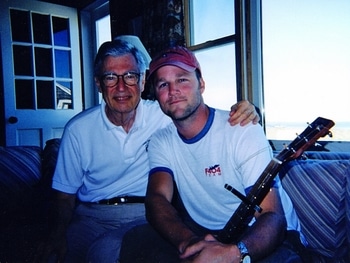 The Lasting Legacy of Mr. Rogers
Christofer and Benjamin Wagner are brothers and the co-directors of the documentary Mister Rogers & Me, about children's television personality Fred Rogers, and the effect he had on the lives of generations of kids. For Ben — who moonlights as a documentarian between his day-job as an executive with MTV News — it was a project that began more than ten years ago, when he discovered Mister Rogers really was his neighbor, living next door to him at a vacation home in Nantucket, MA. Rogers' heartfelt sincerity, and his ability to truly live in the moment, compelled Ben to learn more about the man and about the countless lives he'd forever changed.
The Wagner Brothers sit down with Jesse to discuss the film, the overwhelming experience of meeting Mr. Rogers in person, and the way he helped so many grow up in ways they might not even have noticed. Mister Rogers & Me is available now on DVD. This interview originally aired April 3, 2012.
(For an EXTENDED version of this interview with Benjamin and Christofer Wagner or to share with friends, click here!)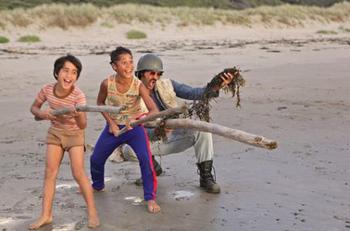 The Outshot: Taika Waititi's Boy
On The Outshot this week, Jesse looks back on the 2010 Sundance Film Festival and finds his favorite film of the fest is only now getting the theatrical release it so richly deserves. The film is Boy, from Māori writer/director/star Taika Waititi. It tells the story of a young Māori boy named, well… Boy. Boy is given the chance to reconnect with his deadbeat father (Waititi) after years apart, as Dad's been away in jail. You can see and hear our interview with Taika Waititi and James Rolleston here.
It's a story bursting with youthful optimism, while the darkness of adulthood creeps in around the edges. It's screening this summer in theaters around the country. This segment originally aired April 3, 2012.
Got a little-known film of your own you want to spread the word about? Head on over to the MaxFun forum and pick your own Outshot.
(Embed or share this Outshot on "Boy")
Guests
Bob Newhart
Christofer Wagner
Benjamin Wagner
Seth Morris
Jason Kottke
About the show
Bullseye is a celebration of the best of arts and culture in public radio form. Host Jesse Thorn sifts the wheat from the chaff to bring you in-depth interviews with the most revered and revolutionary minds in our culture.
Bullseye has been featured in Time, The New York Times, GQ and McSweeney's, which called it "the kind of show people listen to in a more perfect world." Since April 2013, the show has been distributed by NPR.
If you would like to pitch a guest for Bullseye, please CLICK HERE. You can also follow Bullseye on Twitter, YouTube, and Facebook. For more about Bullseye and to see a list of stations that carry it, please click here.
Get in touch with the show
How to listen
Stream or download episodes directly from our website, or listen via your favorite podcatcher!