Episode notes
Howard Bryant is an author, sports correspondent for NPR's Weekend Edition Saturday and a senior writer for ESPN. In his new book, Rickey: The Life and Legend of an American Original, he looks at how Rickey Henderson's Oakland roots helped shape him into one of the greatest to ever play baseball.
In a professional career that spanned almost 25 years, Rickey played 12 of them for the Oakland Athletics in 4 stints. He was one of the best leadoff hitters in the game, and he's scored more runs than any player ever. Rickey earned the nickname "Man of Steal" due to his record for stolen bases at a nearly unbeatable 1406. In 2009, he was inducted to the Baseball hall of Fame.
His dynamic hitting and run totals made him famous, but his personality and passion made him legendary. Rickey was known for being comedic and eccentric, which made him endlessly quotable and beloved by fans.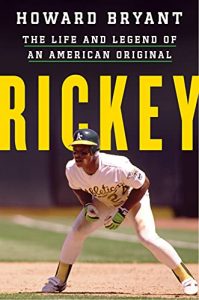 In telling the story of Rickey, Bryant also tells a story about the history of baseball: how players began to realize their true monetary value, and how Black players came to assert themselves as stars in the game.
About the show
Bullseye is a celebration of the best of arts and culture in public radio form. Host Jesse Thorn sifts the wheat from the chaff to bring you in-depth interviews with the most revered and revolutionary minds in our culture.
Bullseye has been featured in Time, The New York Times, GQ and McSweeney's, which called it "the kind of show people listen to in a more perfect world." Since April 2013, the show has been distributed by NPR.
If you would like to pitch a guest for Bullseye, please CLICK HERE. You can also follow Bullseye on Twitter, YouTube, and Facebook. For more about Bullseye and to see a list of stations that carry it, please click here.
Get in touch with the show
How to listen
Stream or download episodes directly from our website, or listen via your favorite podcatcher!
Liked Howard Bryant on baseball legend Rickey Henderson? Listen to these next...