Hello! Welcome to the last official day of MaxFunDrive!
If you were waiting til the last minute to become a member, boost, or upgrade to the next tier, this is it!
We passed 10,000 new, upgrading, and boosting members yesterday evening, which means we get to raffle off our perfect boy, Felt Nutsy, to one of the folks who made that happen! We'll pick a name at random and contact the winner via email, as we've done for the bracelets and the sticker packs. We'll miss Felt Nutsy here at HQ, but we know he's going to go to a great home.
---
New milestone unlocked: MaxFun Foley library!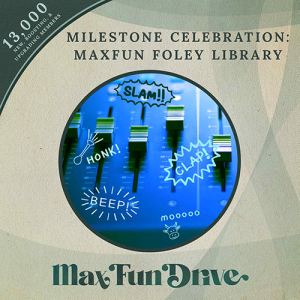 All of us at HQ are excited for the next milestone gift we had planned, so we're going to go for it! If we get to 13,000, we're going to do something very silly.
We'll create our own MaxFun Foley library, with a variety of sounds recorded by hosts and staff! And everyone in the MaxFun community will have access to it—whether you're a member or not—so you can all make some cool stuff with it.
But it's going to be a lot of work to put together, so we've really got to hit that 13K mark. We think we can do it. Want to help us get there? Become a member for $5 a month! Boost by one dollar! Tell all your MaxFun-loving friends about why they should become a member! Or post on social media about why you became one. If you do that, tag us in it and we can share to inspire others. Thank you for all of your help! We can't do what we do without you.
---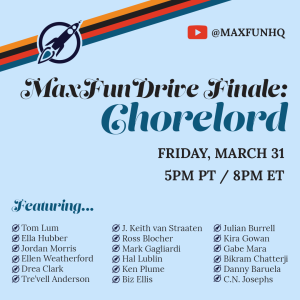 We hope you can join us tonight at 5pm PT / 8pm ET for a few rounds of Chorelord (IYKYK). We've got 20+ folks from the network signed up to partake in some absolute nonsense and I can't wait.
---
All right, that's it for now! Thank you again for being a part of our community, supporting us with a membership, for listening to our shows, for telling your friends about them, and for reading these updates. Enjoy the last day of the Drive!
– Your friends at MaxFun
Want to get news like this in your inbox? Sign up for our newsletter at maximumfun.org/newsletter. We usually send an email once a month, but we have a LOT of exciting stuff happening, so it's been more frequent this spring.