MaxFunDrive 2022 is here!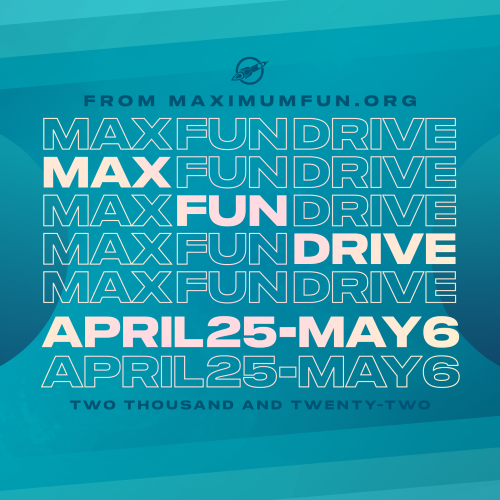 Thank you so much for being a part of the MaxFun community! Since the last MaxFunDrive, we've launched Feeling Seen and brought Just the Zoo of Us onto the network, donated over $100,000 to charity, hired additional producers, and have started work on a bunch of projects that we hope to tell you about later this year.
As you know, MaxFunDrive is the main way our audience-supported shows get their funding for the whole year. Having ongoing monthly memberships means our shows and hosts know that they can count on a certain amount of money all year and budget around that. For MaxFun, it means we can do things like pay for producers, staff, technology, and new show development. It's also two weeks of excellent episodes, special thank-you gifts for new and upgrading members, virtual events, and more fun surprises.
Our goal for MaxFunDrive 2022 is to get to 20,000 new, boosting, and upgrading members! Want to help make that happen? Just go to maximumfun.org/join to start a monthly membership for $5 a month (or more)!
---
Thank-you gifts for new & upgrading members (introducing: PATCHES!)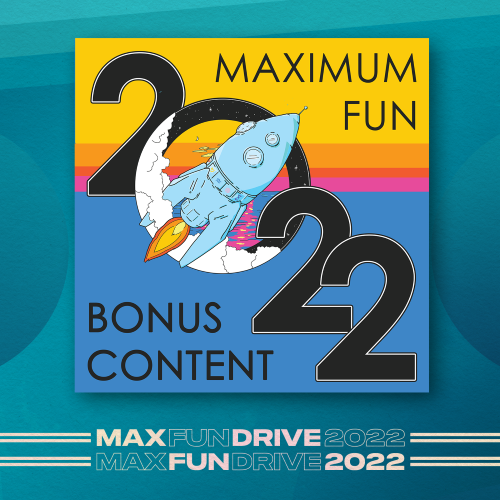 $5/month: Folks who become members at the $5 monthly membership level get our most popular gift: over 300 hours of bonus content! In addition to podcast eps, we have videos and other funsies that don't show up in an RSS feed–like the four recipes we just added from the MaxFun Family Cookbook, and new phone wallpaper with a design from Ellen VanderMyde (who made that rocket Danny used in this BoCo art)!
---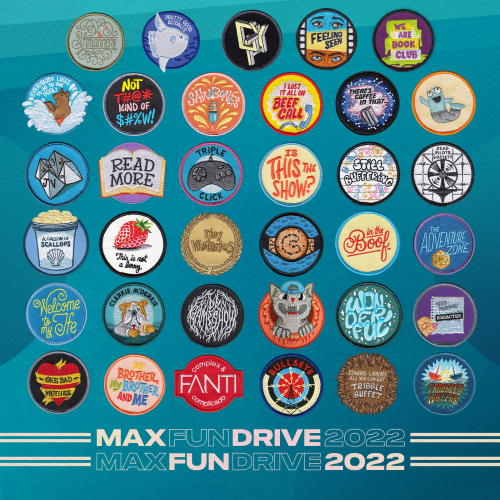 $10/month: Joining at or upgrading to the $10 monthly membership level will get you a 2-inch embroidered patch of your choice, designed by Maret Bonderow of Frog and Toad Press (plus all of that bonus content)! Each one represents a different show and would be great on a jacket, bag, hat, corkboard, magnet, or anywhere really! If you aren't sure how to affix it, K.T. made an amazing set of tutorials for things you can do with your patch. For real though, you should probably go check out these beautiful patches right now.
---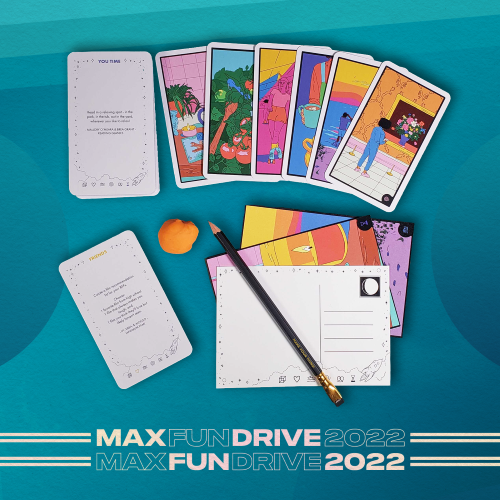 $20/month: If you join at the $20 monthly membership level, you'll get a patch, the bonus content, and the MaxFun Creativity Pack! Ellen VanderMyde illustrated a beautiful MaxFun Inspiration Deck–each card has an activity suggestion from your favorite hosts or your pals at HQ. The pack also comes with postcards, modeling clay, and a custom Blackwing pencil to encourage you to "Make your thing!" (OR you can opt for our rocket logo embroidered hat!)
---
How a monthly membership helps our shows
We rely on monthly memberships to pay our hosts, producers, staff, and to develop new shows. In our membership model, about 70% of every contribution goes straight to the show (or shows) of your choice. We've created an infographic to help transparently explain how your membership helps our artists and the network if you decide to join this MaxFunDrive.

---
Special virtual events!
MaxFun Pub Trivia with Chuck Bryant & John Hodgman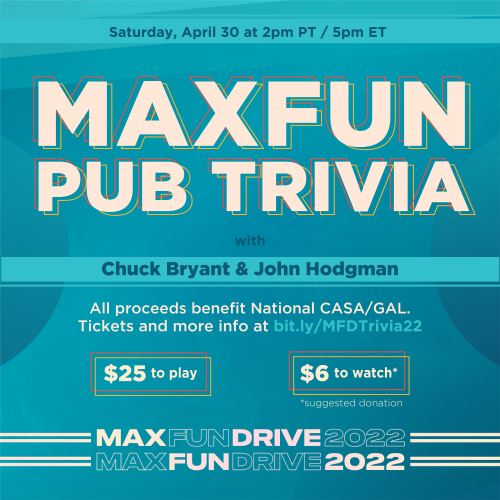 The famous MaxFunCon trivia duo go virtual so all can take part!
Sat, April 30 at 2pm PT/5pm ET
Tickets:
$25 each to play and be in the Zoom meeting (we suggest forming a team of up to 5 people)
$6 suggested donation to watch the stream of the event (click the Tickets button in Eventbrite to get to this option)
Proceeds from this event will go to National CASA/GAL and the work they do training volunteers to advocate for children in the foster care system.
---
MaxFunDrive Finale Hangout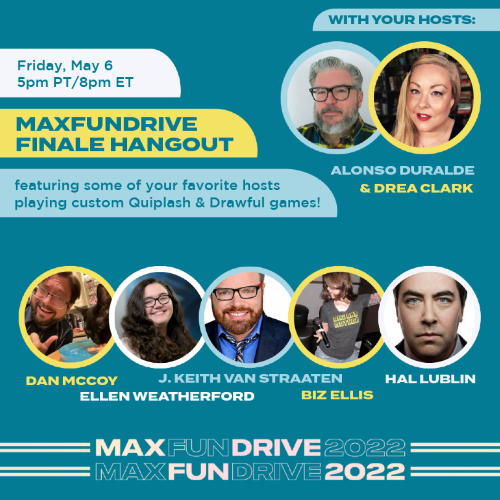 Featuring hosts playing custom Jackbox games using prompts from MaxFunsters.
Friday, May 6 at 5pm PT/8pm ET
We need your prompts for Quiplash and Drawful! Submit them by replying to this tweet thread or emailing us. And set a reminder for yourself on YouTube!
---
We hope you'll join us at these interactive events and on social media as we come together to celebrate the MaxFun community! Follow us on Twitter and Instagram and be sure to follow your favorite shows for updates and fun throughout the two-week MaxFunDrive. We'd be so grateful if you could help us spread the word about MaxFunDrive on social media. Thank you so much for being a part of our community and for supporting our shows!
Now let's get this MaxFunDrive party started!
– Stacey and all your friends at Maximum Fun