As you probably know, the MaxFunDrive is the main way our audience-supported network of shows makes money for the whole year.
Ever since we originally postponed MaxFunDrive in March, folks have asked us about rescheduling. After many discussions, we decided to start the MaxFunDrive on July 13 and extend it all the way through August 7. 
Now, that might seem like a lot of time, since we usually run it for two weeks. But we're actually stretching it out so it can be a bit more relaxed. Like your favorite broken-in pair of jeans. A two-week pledge drive relies heavily on urgency and, frankly, taking up a lot of space in your lives to consistently ask for money. With the world being what it is this year, it really didn't seem like a good time to be rushing folks. We know people have a lot on their plate to think about outside of podcasts.We're going to keep track of new and upgrading members, like we always do, but—to keep with this year's chill MaxFunDrive vibe—we aren't setting an official goal. Having a 4-week drive allows us to be a lot more low-key in our messaging, leaves some space for everyone to keep using their platforms to talk about important stuff going on in the world, and opens up some opportunities for us to do fun stuff that can help the community at large—like weekly livestreams to benefit charity (see below!).
That said, it is a really weird time, and some folks might be wondering why we are doing a MaxFunDrive at all. Well, it's the main source of income for some of our hosts. And, while it's important to us and our hosts to keep our shows free for all to enjoy, we still believe that artists deserve to be paid for their work. We've also heard from a lot of folks about how MaxFun shows have been really important to them and their mental health throughout the past few months. The MaxFunDrive is a time when we all get to hang out online to celebrate MaxFun and enjoy each other's company. And a lot of us could probably use some company right now.
We understand that current events may have impacted your finances, and if this is not the right time for you to join or upgrade your membership, that's totally ok! We'll have a bunch of ways for you to support MaxFun, including some that won't cost you anything at all.
Most importantly, we want the 2020 MaxFunDrive to highlight all the ways we support each other and our communities. So mark your calendars for July 13 and be sure to listen to all the new episodes that come out in the coming weeks!
---
New things for MaxFunDrive 2020!
The MaxFunDrive will still have a lot of our old favorite things, like super cool gifts (I am VERY EXCITED to finally get to show them to you next week), great episodes, and fun community events. But we're also introducing a few new features this year:
Boosting your membership
If you'd like to increase your support, but you can't make the hop to the next membership level, you can now BOOST your membership! This is the first year we're offering a way to boost your membership to an amount in between levels. You won't qualify for gifts that way, but it is an easy way to increase your support for the shows you love
Gift memberships
Another new option we are rolling out this year is the ability to purchase gift memberships! You can get one for a loved one, of course. But, if you happen to be in a good financial spot this year and you want to help out a MaxFunster who might be in a tight spot, we've also added a way for you to gift an anonymous MaxFunster an annual membership.
---
If you joined or upgraded between March 13 and now:
We're going to make good on those gifts we promised you, so if you joined or upgraded to the $10 level or above, please keep an eye out for an email on Monday, July 13. It will include a survey that will collect all the info we need to send you a gift when the Drive is over. If you joined us at the $5 level you should have all access to all of the bonus content we dropped in March already. But we're going to add a few surprises, so be sure you can get to all that fun stuff. You'll also be included in our new and upgrading members count for the Drive (though, like we mentioned above, we won't be having an official goal this year). Thanks for your help in getting the Drive off to a strong start!
---
MaxFun Presents: Pub Trivia with John Hodgman and Chuck Bryant
We're excited to use this extended MaxFunDrive as an opportunity to bring folks together for fun times and great causes. We're extra excited to kick that off with Chuck Bryant and John Hodgman hosting a virtual Pub Trivia via Zoom! If you'd like to put together a team and play, click here to learn more and reserve tickets. (You can also purchase view-only tickets to watch on YouTube and play along on your own.)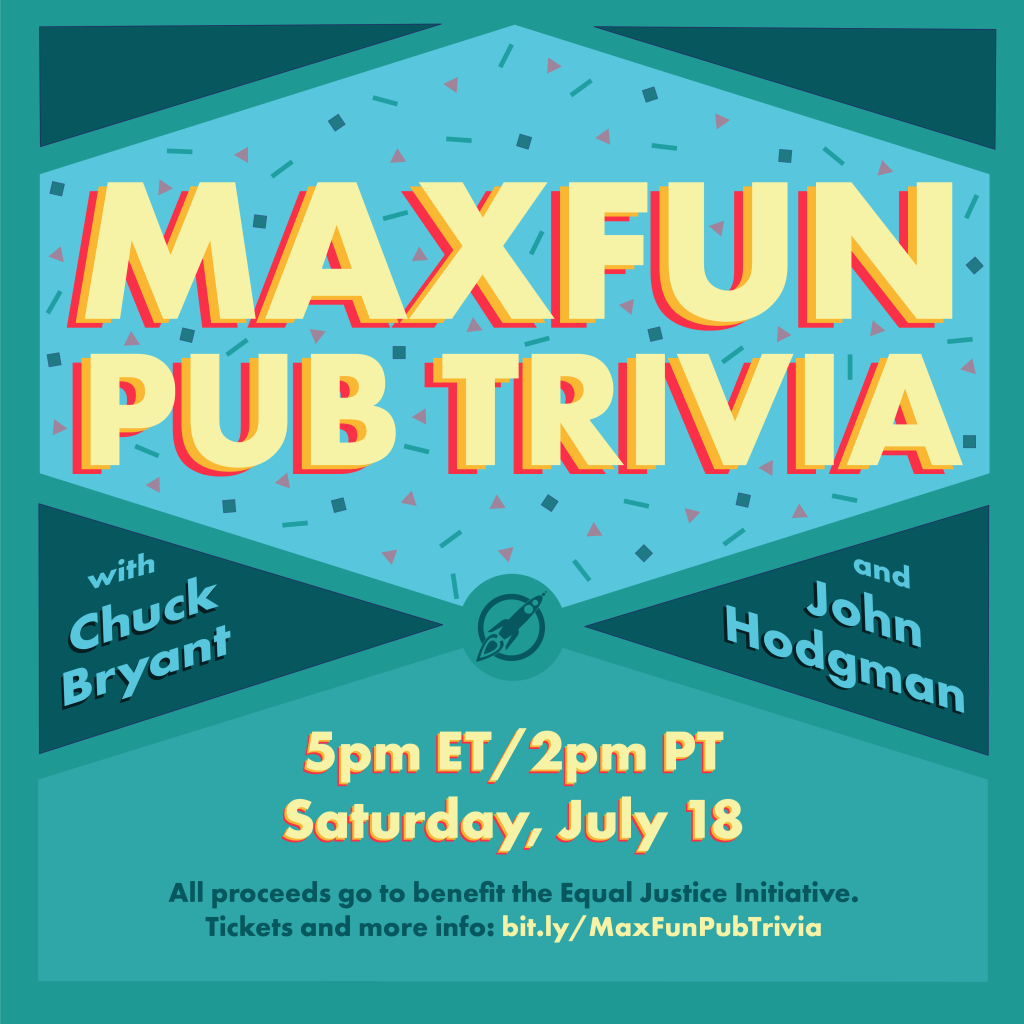 DATE: Saturday, July 18th
TIME: 2 pm PT/ 5 pm ET
TICKETS:
$25 per player, teams of up to 5 people 
$6.50 watch-only/play along on your own
Proceeds benefit the Equal Justice Initiative.
Because team tickets are limited, we suggest you get all your team members' tickets at once to guarantee space!
We'll be back next week for the start of MaxFunDrive 2020 on July 13!!!