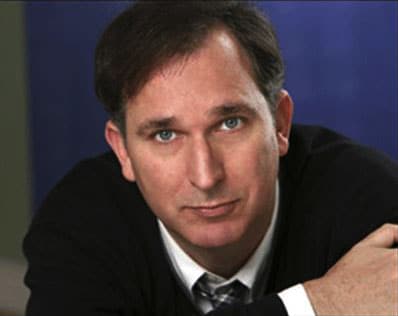 This week, the Cinefamily in Los Angeles is hosting a unique film festival that features top comedians presenting movies that were personally inspiring or influential for them. The festival runs from the 12th to the 14th and features Garry Shandling (screening The King of Comedy); Margaret Cho (showing Darling); Paul F. Tompkins (presenting Topsy-Turvy); Doug Benson (discussing Cocktail!); Kevin Pollak (screening The In-Laws); and Andy Kindler (presenting Modern Romance). Each comedian will introduce the film, perform, and conduct a Q and A afterwards. It's sure to be a very fun and interesting series. I'm planning to attend and, if you are in the Los Angeles area, you should definitely join me. You can get tickets – which are only $10 – here.
The festival is being produced and hosted by actor and comedian Wayne Federman. Mr. Federman took a few minutes yesterday to tell me a bit about the aptly-named 1st Annual Wayne Federman International Film Festival and how it came to be.
Rebecca O'Malley (RO): What inspired you to create this festival?
Wayne Federman (WF): It wasn't any one particular epiphany. It was a number of events that happened over several years. A couple of years ago, a friend of mine, Rob Cohen, who is a writer for The Simpsons, rented out a movie theater and showed the old Batman movie from the 1960s. It was very fun because it was communal and because he loved this film. And that really stuck with me as a fun, happy memory. Then, a few years later, I saw Patton Oswalt present a movie I'd never heard of called The Foot Fist Way. And it was so great to watch Patton introduce it because – one, he's funny. Two, he was passionate about the movie. And three – what I liked most about it – was that he had no connection to the film. He wasn't in it and trying to promote it for that reason. He wasn't reminiscing about what it was like on the set – none of the usual type of presentation that you might encounter during a screening at a film festival. This was just someone I greatly admire being a fan of something he loved – and that was intriguing for me.
That's when I had the idea to bring in comedians and have them pick a film – with the only criterion being that they cannot have been involved with the movie's production. Then we'll show that film – do some stand up at the top – do a Q and A at the end – and just talk about this movie. Just nerd out over it. I thought that would be tremendously fun.
And every comedian that I asked to do it said "yes". They all liked the idea.
RO: That's wonderful. How long did it take you to put the event together?
WF: It came together rather quickly. In a couple of weeks, actually. I knew all of the comedians. And I knew someone at Cinefamily. The key, really, was Garry Shandling. He was the first one to say "yes" – and he was so enthusiastic, so encouraging. He was very excited to see his movie selection in the theater again.
RO: Did he immediately know which film he wanted to present?
WF: He had a couple of ideas, but he kept coming back to The King of Comedy. He felt that it had a connection to Larry Sanders because of its backstage perspective and the way it was shot. And even beyond that he believes that this movie – and I'm sure he'll expand on this idea at the festival – it was so ahead of its time in terms of how it discusses the desire to be famous and what people will do to achieve fame. This was many years before reality television. It's about comedy, in a weird way, and about talk shows. And about America.
RO: Did any of the other comedians immediately know which film they wanted to present?
WF: Some did. But most of them had never been asked to do something like this before – and they were very excited. Especially Margaret Cho. She truly loves the movie she is presenting, Darling. It's her favorite movie.
RO: If someone asked you to select a film to present, which one would you choose?
WF: That's tough. One option that would be near the top of my list would be a movie called Beyond the Valley of the Dolls. I'm sure you've never seen it, but it was written by Roger Ebert. So that's already fascinating – to see a film written by someone who critiques movies made by others. But it is also simply a terrific movie to watch with a crowd. I would consider it for those reasons alone. It's not influential to me in any way. It hasn't informed my comedy or my acting; but it is very entertaining to share with a crowd. But, beyond that, I'm pretty boring. I enjoy the classics. I would probably choose a Woody Allen film or Casablanca.
RO: Casablanca could never be boring! So is this festival – as the name suggests – an event that you are hoping to host annually?
WF: Oh yes! Definitely! Next year I want to expand it and make it a special thing for comedians. It's exciting because I live in Los Angeles – and this is one of the few places in the world where you could put together this festival and invite people to attend and join the fun for only $10. Because we don't have to fly in anyone or put them up. There are no expenses; only great comedians who want to participate. And who can get here easily. It's just a celebration of stand-up and film – together.