Episode notes
If you read Annabelle's op-ed in the New York Times about being diagnosed with lung cancer, you might be able to infer this year has been a bit much. So why would a friend recommend Annabelle watch the play We're Gonna Die by Young Jean Lee, in which the playwright talks about her father dying…of lung cancer?
The friend knows Annabelle very well
Science
A study from the University of Limerick sheds some light on why sad songs make us happy.
In this week's episode we'll hear the sad songs that get Laura and Annabelle weepy–in a good way–and a listener tells us why Edelweiss is her go-to sad song.
We received lots of responses from listeners on Twitter, and since we don't have time to squeeze them all into a 15 minute show, we created a Spotify playlist with everyone's favorites:
Tiny Victories Sad Song Playlist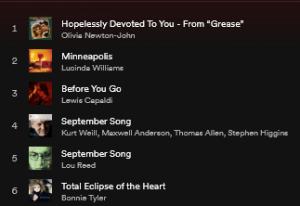 Do YOU have a tiny victory to share?
Call the Tiny Victories Hotline: (323) 285-1675
We want folks to share their tiny victories on our hotline because, frankly, we'll assume we're just talking into the void every week and nothing matters. Prove us wrong. Did you finally do that thing you were putting off? Tiny victory! Reconnect with someone you haven't been in touch with for ages? Victory! We only ask that you try to keep messages to under a minute so we're able to play it on the show.
If you prefer, you can record a tiny victory on your phone and then email us the audio.
Email: TinyVictories@maximumfun.org
HOW TO @ US
Twitter
@Swish (producer Laura Swisher)
Instagram
About the show
Tiny Victories is the 15 minute podcast that pushes back on the notion that you have to "go big" or "go home". Sometimes just going is the victory. Each week, hosts Annabelle Gurwitch and Laura House invite listeners to adopt a TINY victory frame of mind, and share tales of fleeting joys and minor accomplishments in this majorly messed-up world.
What's your Tiny Victory? Annabelle and Laura invite audience members to share stories on the Tiny Victories Hotline. To send in your Tiny Victory, call (323) 285-1675 or record a voice memo of your victory and email the file to tinyvictories@maximumfun.org.
Follow Tiny Victories at @GetTinyPod on Twitter and Instagram.
Logo by Blake Newton.
Get in touch with the show
How to listen
Stream or download episodes directly from our website, or listen via your favorite podcatcher!
Liked Sad Songs That Help a Little…Not a Lot? Listen to these next...