Episode notes
Marisa brings this week's case against her husband Jay. Marisa and Jay have a young daughter, and they've blended their differing religious beliefs and upbringings (Marisa is a "spiritual" person who was raised Catholic, and Jay is an atheist who is culturally Jewish) into a new tradition that they are both happy to share with her. The two disagree about one thing, however: whether or not to display a manger in their home around Christmas time. Marisa is in favor of the display — she claims that because they celebrate Christmas, it is important for them to display a representation of the holiday's religious roots. Jay, on the other hand, objects to the display for religious and aesthetic reasons. Who is right? Judge John Hodgman decides.
STREAM OR DOWNLOAD THIS PODCAST
VIEW THE EVIDENCE
SUBSCRIBE TO THIS PODCAST in ITUNES or the RSS FEED
EVIDENCE
Evidence from Jay
Exhibit A: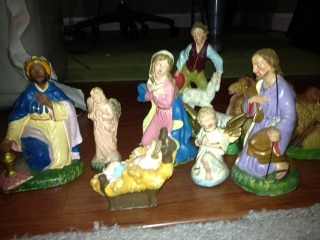 A few of the manger statuettes.
Exhibit B: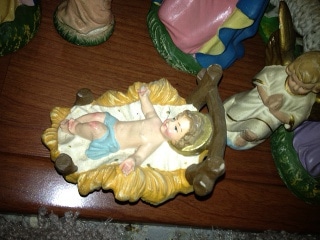 The baby Jesus figure.
Exhibit C: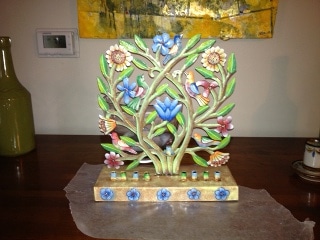 The menorah Jay's mother had delivered to Jay and Marisa's house.
Exhibit D:
Text from Jay's mother regarding the menorah: "… do you like it or is it an imposition? I thought it was unusual and not too religious and pretty, but I didn't see it in person."
About the show
Have your pressing issues decided by Famous Minor Television Personality John Hodgman, Certified Judge. If you'd like John Hodgman to solve your pressing issue, please contact us HERE.
Follow @judgejohnhodgman on Instagram to view evidence from the cases tried in court.
Get in touch with the show
How to listen
Stream or download episodes directly from our website, or listen via your favorite podcatcher!